On 26 August 2022, nine Falling Wall Lab Namibia young researchers and entrepreneurs as well as the organisational team arrived at the Hakusembe River Lodge to participate in an international pitch competition referred to as Falling Walls Lab. This competition places emphasis on breaking down walls in order to develop impactful breakthroughs in various countries.
The participants came from different parts of Namibia, specifically Rundu, Windhoek and Ongwediva. During the first dinner together, participants shared that it was their first time at a Gondwana Collection Namibia property. The pitch event took place on 27 August 2022, whereby five individuals from Rundu who play a pivotal role in the Start-Up and entrepreneurial line of work, served as jury members.
The members of the jury (local entrepreneurs and researchers)
All participants only had three-minutes to present solutions to various current pressing matters, which is the cornerstone of Falling Walls Lab – solution driven, diversity and making a positive change within communities they live in, and this fittingly aligns to a few of Gondwana Collection Namibia's values. Therefore, Gondwana Collection Namibia supported Falling Walls Lab Namibia by hosting the pitch competition and accommodating the participants at Hakusembe River Lodge for a distinctive experience in Namibia's remarkable north and for ease of accessibility concerning the participants from the northern part of the country.
The pitches focused on scientific research, on autism research in Namibia, and climate change. While others presented local Start-Ups that work with natural products or food wastage to create new and unique products. Meanwhile, another pitch showed an initiative to collect tomato wastage and another project focused on creating natural cleaning products from local ingredients. Furthermore, other presentations emphasised on the reusable sanitary pads, innovative traffic lights and the creation of charging stations for electrical vehicles in Namibia.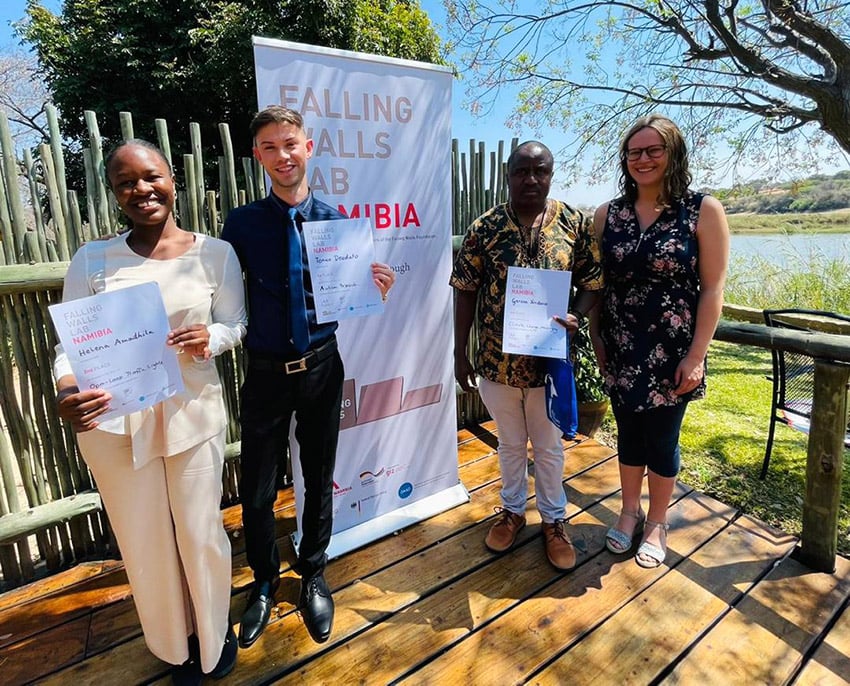 The 3 winners: from the left- Helena Amadhila (2nd place), Tonico Deodato (1st place), Dr. Gerson Sindano (3rd place)
The Falling Walls Lab Namibia winner is Tonico Deodato, whose pitch focuses on autism research in Namibia. He will present his pitch in Berlin, Germany at the Falling Walls Science Summit from 7 to 9 November 2022. In addition, he will have an opportunity to connect with potential sponsors as well as funding organisations.
The Falling Walls Lab is funded by the German Federal Ministry Foreign Office of Germany as well as the German Academic Exchange (DAAD), which organises the internationally acclaimed Falling Walls Lab. This initiative takes place in numerous countries, including; Italy, Germany, South Africa, Australia, Botswana, Madagascar, Kenya, Sudan, Nigeria, Mangolia, Indonesia, Saudi Arabia, India, South Korea, Japan, Spain, Thailand, United Kingdom, Iraq, Canada, United States, Mexico, Colombia, Costa Rica, Peru, Bolovia, Chile, Argentina and Morocco.
In Namibia it is hosted through the support of the University of Namibia (UNAM) and the German Academic Exchange (DAAD). Moreover, the Falling Walls Lab initiative is referred to as a Global Platform for Innovations and career innovators. In the different countries, researchers, students and professionals present their ideas at a national level. The main aim of this platform is to provide a diverse and interdisciplinary pool of students, researchers and early career professionals with a world-class platform that aids innovators, develops their communication skills and connects them with other world-changers.
We wish the Namibian Falling Walls Lab representative all the best as he prepares for this international summit.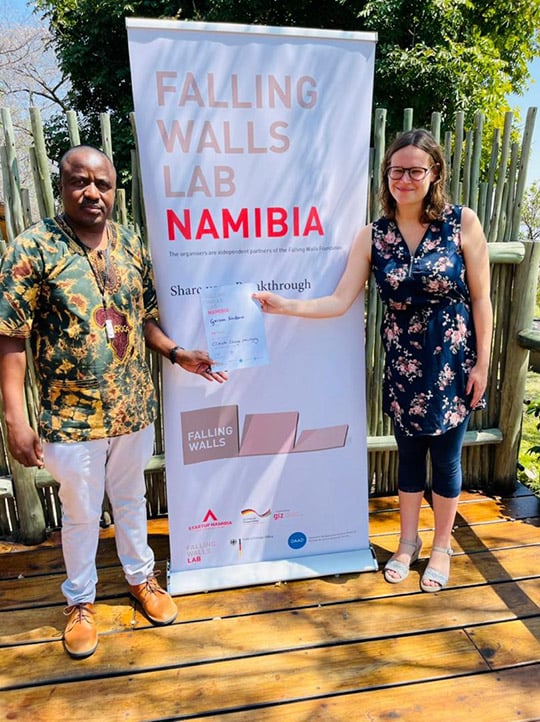 3rd place winner with presentation on "Breaking the Walls of Climate Change Messaging"
and DAAD-representative