Hooking a tigerfish is on every serious fisherman's bucket list. The fierce predator fights hard before admitting defeat and having its picture taken with the proud angler – and before being released back into the water!
If lucky, you can catch a huge tigerfish of up to 700mm length and 5 or even 7kg on the Zambezi or Okavango rivers. Admire its striking colours of silver on head and body, a bluish sheen on the back and some parallel longitudinal black stripes. What a beauty!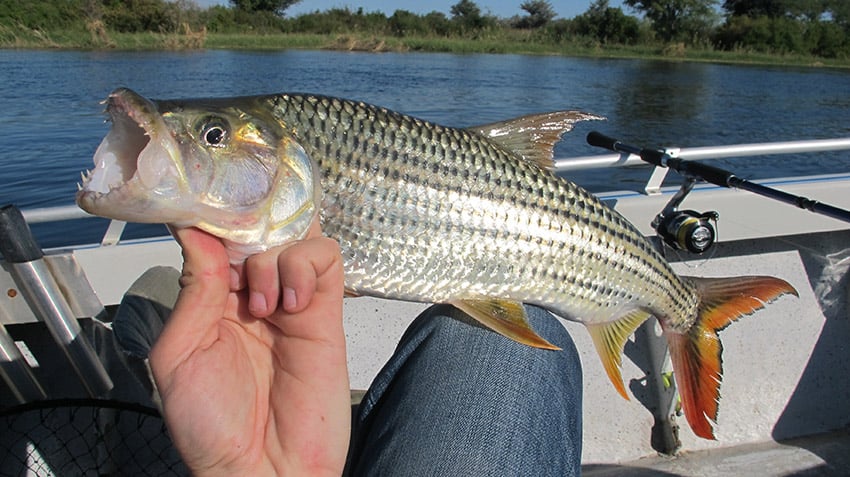 Numbers of the Hydrocynus vittatus, as it is scientifically known, have declined over the years due to illegal fishing practices, pollution, water extraction and obstructions from man-made structures that prevent their passage.
Where can I catch a tiger fish?
Most lodges of Gondwana Collection Namibia in the north-east of the country offer fishing as an activity. Attractive fishing packages are available. However, if you want to catch a tigerfish you should try your luck at Zambezi Mubala Lodge and Camp or at Hakusembe River Lodge. Fishing takes place on a catch and release basis.
Nembwe - another attractive catch!
Furthermore, the well-known tourism company supports the Sikunga Fish Protection Project at the Zambezi River, where fish guards from the local community protect a stretch of the Zambezi River to allow undisturbed breeding of fish stocks in the region.
Please note! All guests with their own boats must obtain their fishing license with the Ministry of Fisheries and Marine Resources at the Regional Office in Katima Mulilo, Tel. +264-66-262 200. Zambezi Mubala Camp and Lodge can no longer issue fishing licenses to guests with own boats. This is in line with current rules and regulations from the Ministry of Fisheries and Marine Resources.
Join the Zambezi Classic for an unparalleled fishing experience!
The Zambezi Classic is one of the biggest freshwater angling competitions in Namibia organised by the Nwanyi Angling Club in Katima Mulilo. This year, the event will take place from 21 to 25 August. It has a lot to offer.
Apart from the thrill of sports angling and the attractive prizes, every participant makes a meaningful contribution towards the protection of the river as part of the income benefits the Sikunga fish guards. Entries close on 11 August 2023.
For more info and/or entry forms please send an email to chair@nwanyiangling.com