Want to share the self-drive highlights of your Namibia holiday with family and friends? With Namibia2Go it's easy! Simply rent a WiFi dongle when you book your rental car. Unlimited internet, unlimited freedom!

Especially abroad, where you don't know the local setting, it is very convenient to have access to a WiFi dongle right away. Namibia2Go provides wireless devices from MTC Namibia which ensure access to internet almost all over the country.

Instead of stopping at random coffee shops or shopping malls and using the public WiFi, you can make a smart move and take a Namibia2Go Wi-Fi dongle along.
This offer is only valid in combination with a rental car booking.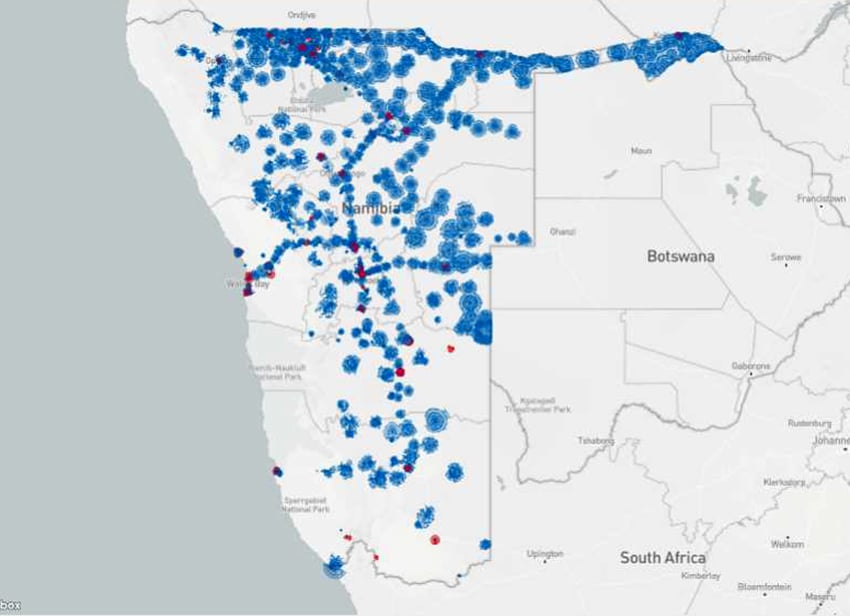 MTC's 3G, 4G and Spectra coverage. (from www.mtc.com.na/location)
Not too familiar with a WiFi Dongle?
Don't worry; you'll be perfectly fine with it.

A WiFi dongle is a small device like a USB stick. It connects to your smartphone, tablet or laptop and allows you to access the internet while you're traveling. You can also plug it into the USB port in your car. It is convenient to use - and affordable.

You can use the connection provided by the WiFi Dongle to access the internet, share the internet connection with your friends, download files, share files, and do a lot more.

Secure your internet access on the go and reserve your dongle with unlimited data right away for N$75.00 a day when you book your Namibia2Go rental car.