Canyon Roadhouse is the ideal stop on the way to the Fish River Canyon, the largest canyon in Africa and one of Namibia's most famous sights. It is known for its vintage car ambience and Amarula cheesecake.

Chef Eliaser with his team after a successful training on how to decorate and put more love into the creation of the dishes.
With tourism picking up slowly but surely the staff of Canyon Roadhouse engaged in some spring cleaning to make Roadhouse look even more welcoming to our guests. The lodge's entrance area and the gardens have been rearranged and received a face-lift.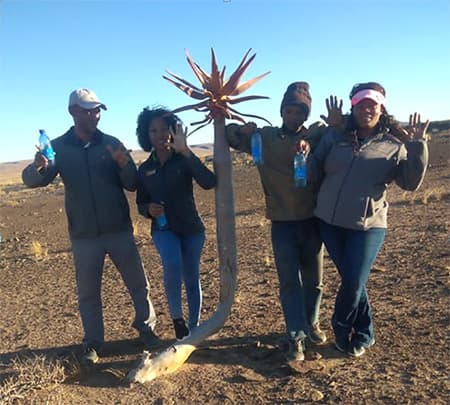 These team members embarked on a 4.5 km hike to fix the signposts.
Some staff members took off for the walking trails and fixed the route signs to be more visible to the guests. Furthermore, the heads of departments did some in-house training with their teams, sharing their knowledge and expertise.

Embellishment of the entrance area to the Canyon Roadhouse.
Stop by Canyon Roadhouse on your way to the Fish River Canyon or spend the night there. An interesting range of leisure activities awaits you, such as hikes, e-bike tours and nature drives through the wildlife-rich Gondwana Canyon Park.