The journey is the destination. This was true for many of the 140 runners who participated in the SPAR Gondwana Moon Valley Marathon in Swakopmund. In the early morning hours of 19 March 2022, the challenging route took the runners right into the Namib Desert and the rough, yet fascinating Moon Valley terrain with its soaring temperatures.
The runners had the choice between a full or a half marathon starting at 6:00 am, and a 10 km race that kicked off at 8:00 am. Thus, the top runners in the Half Marathon category crossed the finish line before the 10 km race even started.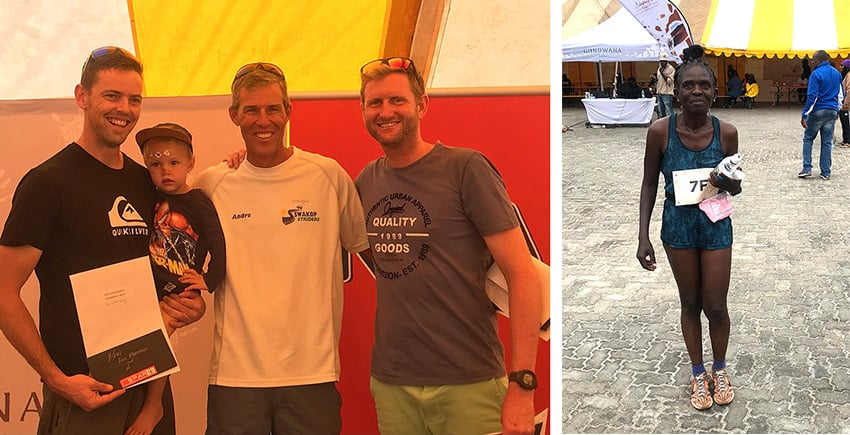 42 km podium (ltr): Jaco van den Berg (2nd), Andre Ross (1st), Luan Reinders (3rd) and the winner of the ladies marathon, Ottilie Aimwata.
First in the Men's Half Marathon was Paulus Daniel in a time of 1:06:23, followed by Tomas Hilifa Rainhold and Tangeni Sackaria. The fastest lady was Mweshamekange Indileni (01:32:53);Helena Iipinge and Pamela Vuraya followed in second and third place.
Congratulations to the all the tough full marathon runners who finished their race. Andre Ross (03:06:13) was the first to return from his exhausting excursion into the Moon Valley, followed by Jaco van den Berg and Luan Reinders. Fastest woman was Ottilie Aimwata in 03:30:59 ahead of Anna Amutoku and Marietjie du Plessis.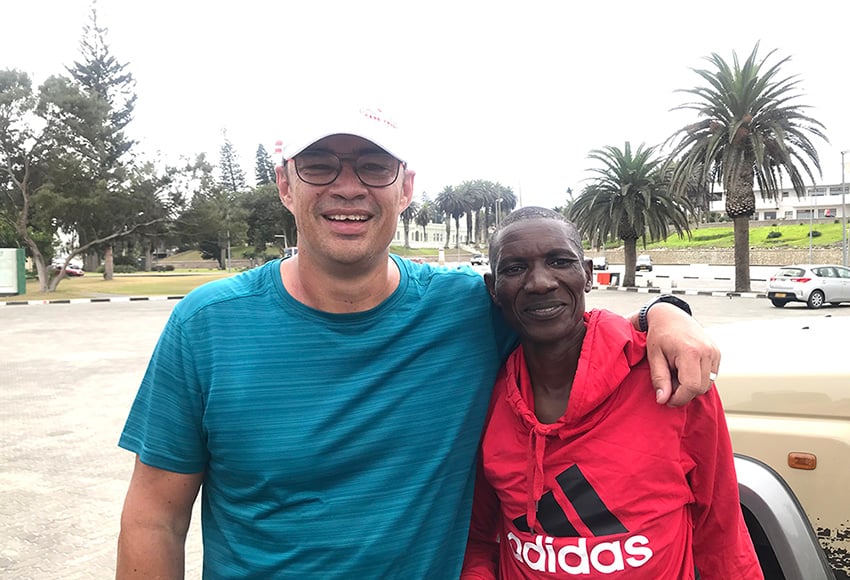 Proudest moment ever... Gondwana's CEO Gys Joubert crosses the finish line after a gruelling 42 km at the SPAR Gondwana Moon Valley Marathon in Swakopmund, accompanied by top marathon runner Vilho Paulus. Paulus unfortunately lost his way on the trail but recovered well and found his way back onto the correct route where he decided to team up with Gys and supported him. Great sporting spirit and well done!
The winner of the 10km race, which was also intended as a fun run, was Megameno Mateus (00:36:28) followed by David Iiyambo and Erich Goeieman. In the women's category, Jivanka Kruger (00:44:50) won ahead of Arina Lensing and Ndemufayo Angula in 2nd and 3rd place.
The three top-ranking women and men in the Full and Half Marathon categories each received Gondwana Accommodation Value Vouchers as well as prize money sponsored by SPAR. All participants who finished the 10 km race participated in a lucky draw with great prizes.
A big THANK YOU goes to our co-sponsors SPAR, Nova 103.5, OSH-Med international and Two Beards Swakopmund Coffee Roasters, as well as PayToday for facilitating the registration process and FinishTime for timing our race. Last but not least, we would like to acknowledge all the participants and all our eager helpers who contributed to the success of Gondwana's very first running event.
Race details and the complete results lists are available on our website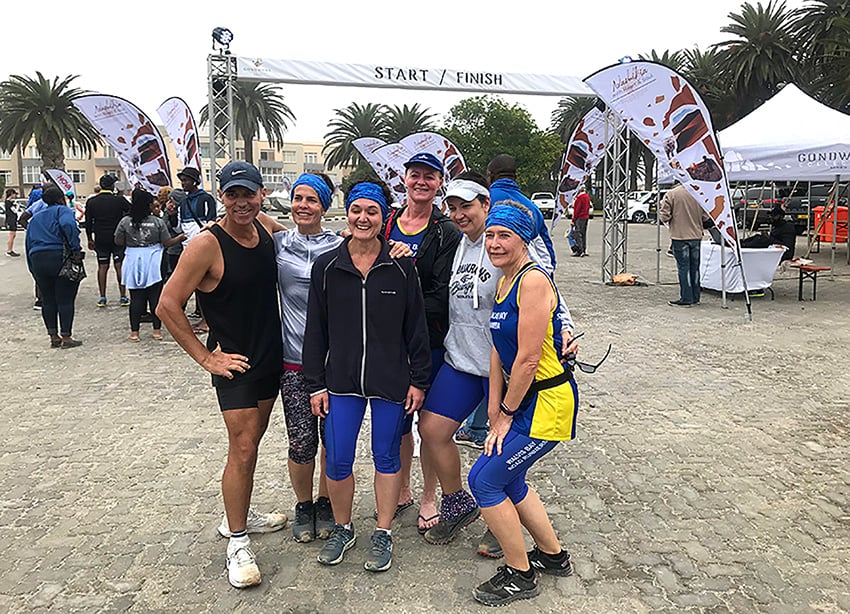 After the race, a running group from Walvis Bay poses for a team photo.