A comprehensive book on the wild horses living in the Namib Desert in south-western Namibia is now available – hot off the press. A German version will be printed next month.
Their origins steeped in mystery, the wild horses have over the years captured imaginations and touched hearts. These resilient animals have survived in the desert for close to a century and have become one of the main tourist attractions in southern Namibia.
Wild Horses in the Namib Desert is the outcome of a collaboration, revealing - in carefully researched detail - the little known history and behaviour of the wild horse population. Mannfred Goldbeck sheds light on the horses' origins, taking the reader back to the tumultuous time of World War l and exploring the more plausible theories. Telané Greyling (PhD Zoology) shares her knowledge of the intriguing behaviour of the Namib horses gleaned from her many years of research and life amongst the horses. The book provides answers to the numerous questions frequently asked about the behaviour of the wild horses, from how often they drink to the size of their family groups, enlightening the reader about their existence away from the world of domestication.
An honest account of the Namib horses through the last century, including the harsh reality of drought, and beautifully illustrated with over a hundred photographs, Wild Horses in the Namib Desert will appeal not only to history- and horse-lovers but to all those who cherish freedom and the greatness of the natural world. The attractive layout suggests the soul and the essence of the book which was crafted out of love for all things wild.
An equine biography of the Namib wild horses, the book traces the beginnings of Equus groups on the sub-continent, following their journey over time to Namibia and the present day.
Mannfred Goldbeck and Telané Greyling, as told to Ron Swilling: Wild Horses in the Namib Desert: An equine biography, Windhoek 2011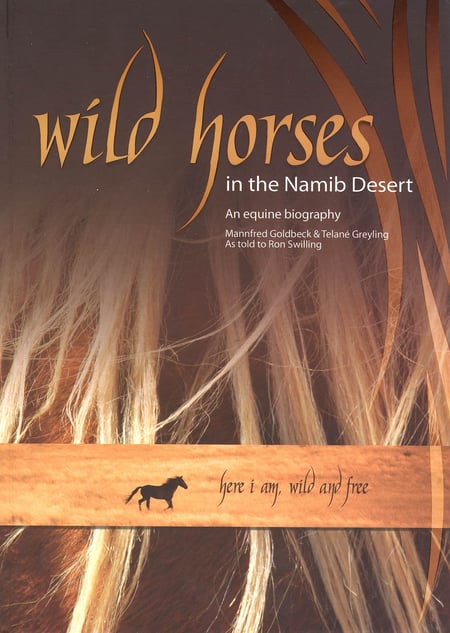 Available in all leading Namibian book stores.