Do you already have a surprise for your loved one this Valentine's? If not , read on and discover why the lodges from Gondwana Collection Namibia make for the perfect gift. Gondwana has been struck by a cupid and brings you an offer that will make the month of February your favorite month of the New Year.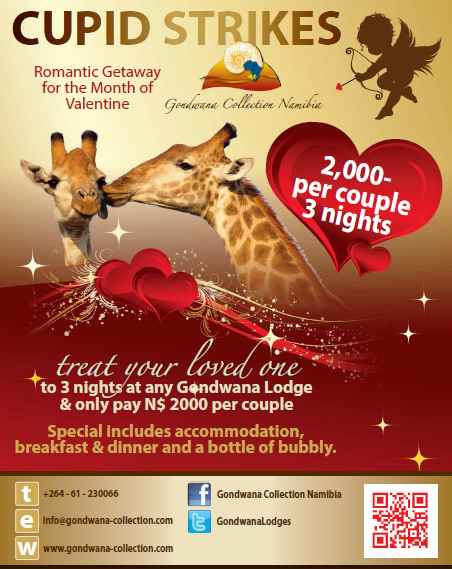 Here are 8 solid reasons to treat your loved one to a gift from Gondwana:
Picturesque sun-downers that will stay with you for a lifetime
The remoteness of our Lodges make for a private and secluded hideaway
Give your loved one an experience and memories that will last for a lifetime
Rekindle your love while participating in a game drive, boat ride or hiking excursion
The best couple pictures are done within nature and around wildlife
Romantic Stargazing
Most romantic getaway idea this valentines
Affordable and unique valentines package
Convinced? What are you waiting for? Book your couple Valentine's Package today and treat your loved one to 3 nights at any Gondwana Lodge for N$ 2,000. You will receive complimentary breakfast, dinner and a bottle of bubbly. Surprise your favorite person this Valentines!
Terms & Conditions
This Special is valid for February 2013 only & expires on the 28 February 2013.
This Special is valid for 1,2 or 3 nights at N$ 2,000 per couple for February 2013 only.
This Special is valid for a couple travelling together and is not redeemable for cash.
No existing bookings for February 2013 can apply for this special.
This special is valid for Gondwana Card Holder only. Gondwana Cards cost N$100 each & are available at our Headoffice in Windhoek.
Gondwana children policy applies to the advertised rate (children until 5 are free of charge, children between 6 and 13 pay 50% of the advertised rate)
Contact the Gondwana Travel Centre to make your booking today:
Tel: +264 61 23 00 66
email: info@gondwana-collection.com