Hello reader, today's topic is Fish River Canyon. This is a very popular attraction in Namibia, aided by the fact that it is second in size only to the Grand Canyon in the USA. The area is barren and desert, even around here, there is nothing. This, if possible, makes the excursion more fascinating.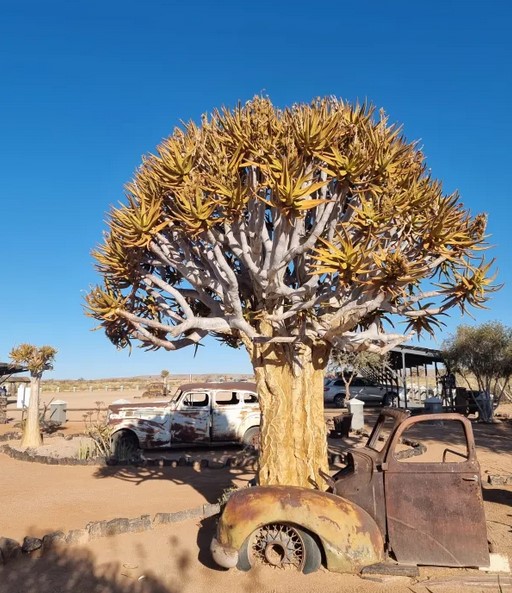 And it is in this nothing that the Canyon Roadhouse is located. Accommodation matters, there is little to do, they give the trip a different flavor, and this structure was a surprise right from the start. This hotel is a super particular style structure, here and there around the property are lots of vintage cars scattered. There is no shortage of references to the world of cinema, such as the beautiful Ghostbusters car.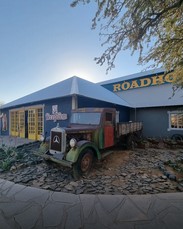 It doesn't seem real. This is the common thread that binds a stay in this place. When you arrive at your destination, you will undoubtedly be a bit confused. The first thing you will see, shortly after the sign, will be a petrol pump (working) and absolutely accessible to anyone who wants to refuel, which is already a plus considering the low distribution of petrol stations in the area.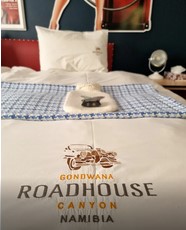 The rooms are spacious and well sheltered from the night wind, colourful and in a typical American style of the 50s. Read more about the stay at Canyon Roadhouse, from when Daniela and Mattia visited.
https://terracqueo.com/category/namibia/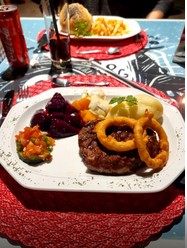 Daniela and Mattia are from Milan, and combined their passions for travelling with writing to start a blog. This is also what binds them, the teamwork that comes with travelling and experiencing new places. Get to know them in their Blog called Earthy, Travel Blog on the Road. (https://terracqueo.com/category/ci-presentiamo/)