Wanted in 30 Days. The best Namibian photo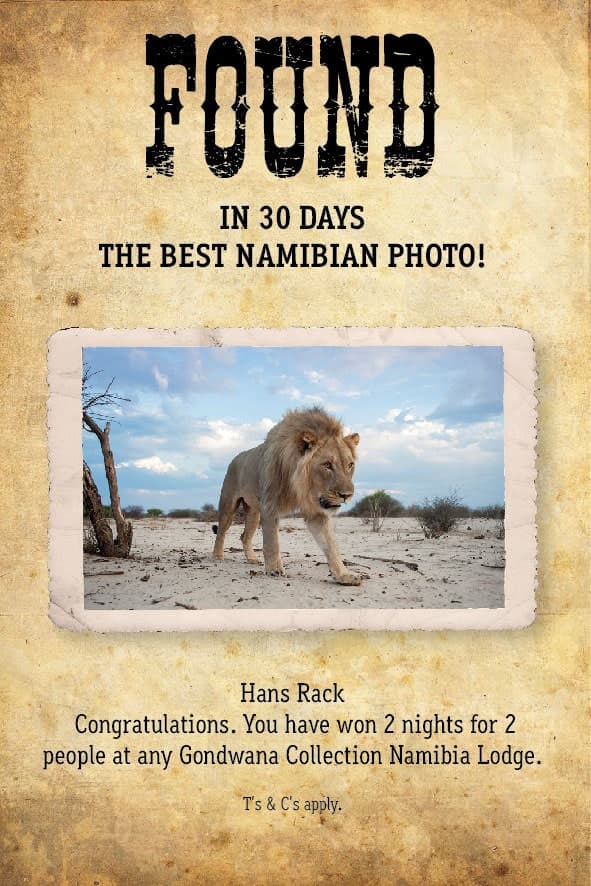 Let us give you a little bit of a background about our latest competition. There are various reasons why we launched this Wanted in 30 days competition to find the best Namibian photograph. I can give you a long description of reasons and motives behind such a competition, but there were 2 very important goals we had in mind. We wanted to establish who are the professional photographers of today, both new and upcoming and also what kind of Namibia images are out there. We were looking for fresh material with the potential to wow and amaze and give photographers to showcase their work to an audiance they would otherwise not reach. Through this we also wanted to create a platform where photographers can be recognised and receive exposure for their work on Namibia. We are currently in the process of uploading the more than 2000 photos received to an album on Pinterest. Each photo will be captioned with the name of the photographer who took it.
The reaction and participation we received was much bigger than anticipated and we were overwhelmed by the amount of photos sent in.
As in any competition, there was a slight hiccup or two. We had an unfortunate incident where plagiarism was committed, but luckily some of our fans noticed and we were able to quickly resolve this problem. Once again, we would again like to make use of this opportunity to apologise. We also amended the terms & conditions of the competition to the benefit of photographers who sent in images.
We are thankful for each and every photograph received. Also for your ongoing support, loyalty and for the constructive feedback we received from several high profile photographers. In any future photo competition we will implement some of the suggestions received to avoid disappointment and confusion.
Please note: These images are only thumbnails. Click on an image to view the gallery and the images in their original size.
You are welcome to give us your feedback by leaving a comment below.