Ask any Windhoek resident and he will know of the book exchange on the corner of Tal and Garten streets. Shelves crammed with books reach up to the ceiling and hold infinite stories and sagas. Here you can find anything from collectables to sci fi, thrillers and romantic novels.
The shelves hold journeys of the imagination, records of the past and pages of inspiration. They seem to throb with excitement and adventure, and entering Uncle Spike's is like walking into a pharaoh's palace, embellished with golden finery.
But who was Uncle Spike and where did this beloved Windhoek tradition originate? After a bit of investigation, a meeting was arranged with Uncle Spike's daughter and the mystery was revealed. Diana Ahrens proudly recounted the fascinating history of the book exchange and the generous man who loved books, tobacco, whisky and life when we met on a cool wintry day in central Windhoek.
Neville Edgar Bauser was born in Kimberley in 1918, son of German parents who immigrated to South Africa from Stuttgart in 1914, renouncing their heritage to protect themselves. Neville grew up as an English South African, not speaking a word of German. After his parents' untimely death when Neville was fourteen years old, he moved to Port Elizabeth to live with relatives. He remained there until he was recruited into the South African army at seventeen to fight the Italians in Ethiopia and Rommel's troops in Cairo. Returning to southern Africa by ship, he became a rep in South West Africa for Hudson Bay Hides, Skins and Petroleum. His work took him down the long, dusty roads of the country from Walvis Bay and Outjo to Windhoek. It was in Windhoek where he would meet Marga, the German woman who would become his wife. Strangely enough, as fates often are, Marga Nink's parents rejected him because he was an "Englishman" and her father threatened to disown her. Love has its own momentum, however, regardless of circumstance, and the couple was married in 1945. Throughout his life he jokingly referred to his family as "squareheads", never knowing his German ancestry.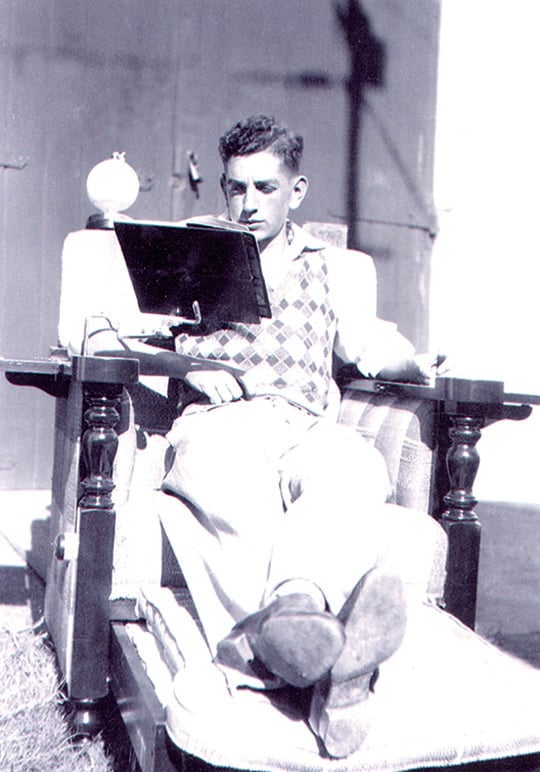 Young Spike reading in a slatted lounger. (collection Diana Ahrens)
Diana opened an envelope and old photographs of her parents and family spilled out in front of us in cherished black and white moments. In many photographs a tall thin man with a broad smile took centre stage in happy party scenes and loving family shots. This was Neville, who had picked up the nickname "Spike" because of his gangly appearance while he was in the army. He was never again to be referred to by his real name, not even by his wife. One photograph that stood out from the rest was of a young, good-looking Spike sitting in a slatted lounger reading a book held upright in a holder specially fitted into the armrest. It was a typical pose, which the family knew well. "He loved reading, wherever he was," Diana quipped, and added that he was especially fond of Westerns and local history. Although her parents were hard working, only breaking to have lunch with the family, she remembers her father grabbing precious moments with his books whenever he could.
It was his love of reading that led to the establishment of the book exchange but that was far from his original intention. Spike had his fingers in many pies, owning a general dealer, Klein Windhoek Cash Store, which he had for 25 years; Woodway, Pioneer and Klein Windhoek service stations; Pioneer Heavy Haulage that cleared bush for electricity pylons; and a farm in the Khomas Hochland area. When he sold the general dealer, he opened "Uncle Spike's Toy Shop" on Kaiserstrasse. This initially served as a tobacconist as well, but Diana recalls that her father was its best customer and it didn't prove viable. Children would rush to the shop after school to play with the toys and good-natured Spike, although strict with things like manners at table, never reprimanded them.
At home he remained an avid reader and Marga, frustrated with the piles of books gathering on the floor, eventually told him to give them away to friends. He moved them to his toy shop. One day, someone asked about the books and Spike replied that he was welcome to borrow them. The customer suggested that Spike sell/exchange the second-hand books. In that flash of brilliance, "Uncle Spike's Toy Shop and Book Exchange" was born. Spike worked alongside his long-time auditor, Jan Dreyer, who eventually bought the shop from him, retaining the well-known name. Spike continued to frequent the shop to read the wealth of books until his death in 1979. Over the years the shop began to focus solely on books. In 1980 it was sold to the Millers and moved to its present location. Two years later, George Yates bought "Uncle Spike's Book Exchange" and has owned it for the last 40 years, keeping Spike's passion for books alive and continuing to stock German, English and Afrikaans books.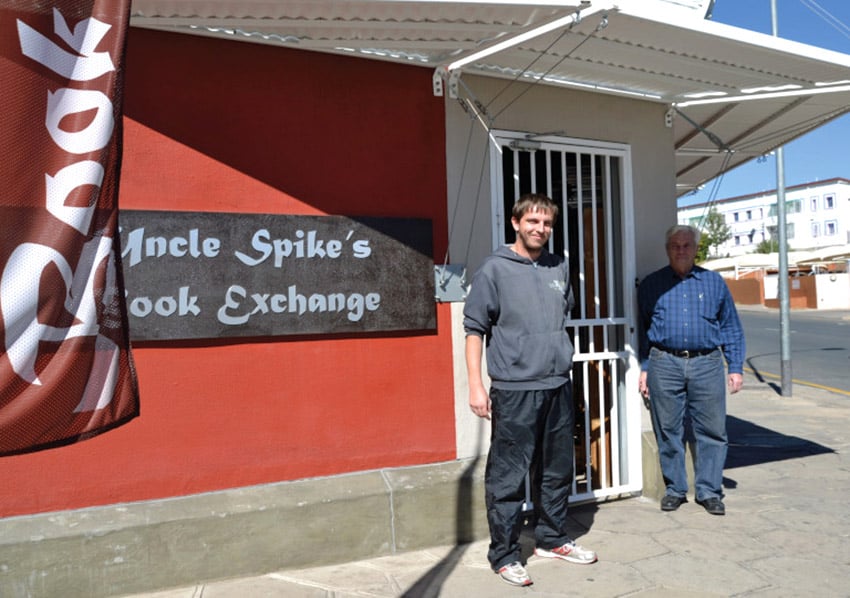 The owners of Uncle Spike's Book Exchange, George Yates (r) and his son Clifford, in front of their shop. (Photo: Ron Swilling)
George had been a customer at the book exchange for many years, and although qualified in telecommunications, has always had a love of books and the written word. He has doubled the shop's size over the decades and learned to move with the times and cater to modern trends and different tastes. George retired in 2022, handing over the shop to his son, Clifford, who grew up working in the shop on weekends and in school holidays.
Sadly George passed away earlier this week, but he assisted Clifford in the shop that he loved so much until the very end.
The Windhoek tradition endures. Diana has continued to visit Uncle Spike's over the years as her father's book exchange evolved into the treasure house it is today.
Uncle Spike's legacy lives on.
Ron Swilling