You are on your way to the Zambezi or tiger fish Mecca as they call it, for some action along the river banks. You're car is packed, fishing rod is oiled and the cooler box has cold beer. I have a few tips to help you catch that big fish. I am not talking about a 2 legged fish. I am talking about the ones in the river.
Guys, I know you are probably laughing now and thinking to yourself – what on earth does this girl know about fishing? Well, okay, I had some help from the men, but here is some proof that I have actually done it successfully once.
Now that you are done laughing, let's look at all the necessities for your fishing trip. We are going to be catching Kurper, Nembwe and Tiger Fish.
Very important is your cooler box containing lots of ice, enough beer and water. In Namibia, the sun is scorching hot so don't forget the sun screen. Place this in your cooler box so when you apply it, it's not watery from lying in the sun, but rather nice and cool on your skin. Remember to wash off the sunscreen from your hands before you touch the bait and lures again. It repels fish. Make sure you have a hat.
You will need the right tackle. This is crucial. The right bait and tackle will get you that big fish.
First and foremost – the rod. A medium to heavy action spinning rod and 7 to 8 feet in length. The line must have a breaking strain of between 8 to 12 kg. Invest in a good quality spinning reel. If you hook that big one you will not be disappointed in buying it.
Before you go all tangerine kung fu with your wallet on the bait shop, find out what kind of bait is used in the area. Get some information from the locals. Learn the lingo. The level of the water plays a very big role. The reason for this being; the tiger fish has to constantly adjust its feeding patterns as the water levels rise and recede throughout the year. It also depends on the mood of the fish. Sometimes when the tiger fish are experiencing lazy days, they like slow moving bait, but some days, they like to fight for a piece of food. These fish like to ambush their prey, so you need to think like a fish. Focus and think like a fish. Rather use a long shank single hook for tiger fish as they have a very soft membrane in their mouth and treble hooks tend to tear out easily. Treble hooks are for catching Nembwe and Kurper.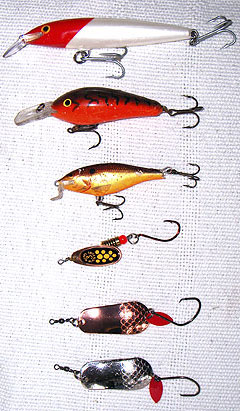 From top to bottom :
Rapala XRap Magnum
Rapala FatRap
Rapala Super ShedRap
Meps spinner
EFF Zett Double sided copper spoon
EFF Zett Double sided silver spoon
According to one of my good fishermen friends, the rapids in the deep downstream puddles are the best for catching tiger fish and the clay banks for catching Nembwe.
When buying spinners and lures makes sure it's made of a very hard material to withstand the force of an attack. I heard once that tiger fish apparently love the color red. Don't know how true this is. Maybe you can ask the fish about their color preference before going to the shop.
A quality steel trace is an absolute necessity in catching tiger fish, at least 30 cm in length.
Fishing for Kurper; earthworm, mielies (maize), small insect and small feathered lures with small hooks, will produce very good results. Their local hangout spot is still, shallow water.
To catch bream, trolling and bottom fishing is a very effective technique. Their nature is to feed on the bottom of rivers. They prefer deep still waters and dark places but can also be found in clear shallow waters and have the tendency to follow the wind. Wide open spots are great for that winner fish.
The best time to go fishing is early in the morning just after the rays of the sun have cast its light over the earth and just before sunset. It is not safe to cast from the river bank because of the hippos and crocodiles. Trolling is a very popular way of fishing in Namibia which is to fish by trailing a baited line from behind a slow moving boat.
In Namibia – always practice catch and release. When choosing lures, spinners and hooks, keep this in consideration so you can get the hooks out easily and the fish back in the water as quickly as possible.
If all else fails and you do not want to buy all the equipment, tackle can be hired at Namushasha and Hakusembe River lodge. The lodges also offer fishing excursions.
http://www.youtube.com/v/kpn48up0kzs?fs=1"
For a more intense guide on fishing, click here.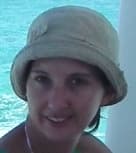 Jessica Thomas is a local freelance writer. She is an eccentric young lady who has a love affair with writing. Get on board her journey of discovery.