Gondwana Collection Namibia has these types of cards and memberships active and available for Namibians and SADC guests to register and qualify for discounts.:
Gondwana Namibian – GN & Gondwana SADC – GS
The SADC countries that qualify for the Gondwana membership:
Angola, Botswana, Comoros, Democratic Republic of Congo, Eswatini, Lesotho, Madagascar, Malawi, Mauritius, Mozambique, Namibia, Seychelles, South Africa, Tanzania, Zambia and Zimbabwe.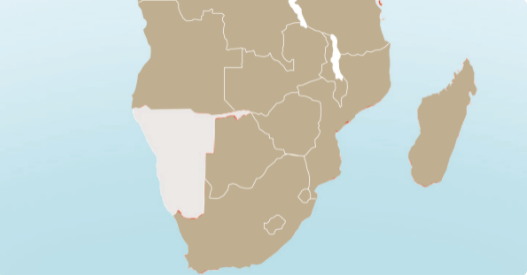 Gondwana Temporary Namibian – GTN & Gondwana Temporary SADC - GTS
This membership status has validity as per the visa provided during the application and this is for Temporary Namibians citizens who are in the country for work or school and thereafter a client is required to reapply by providing a new valid visa or permit.
Gondwana membership application fees are N$ 300.00 per application for an adult of 14 years old and older. Children between the ages of 6 -13 years old pay N$ 150.00 per membership application. Children between the ages of 0 - 5 years old, travel free of charge with Gondwana Collection and therefore no membership is required yet. These fees are relevant to all applications per person. Each traveler needs to have their own Gondwana membership to qualify for the discounted rates, should they meet the application requirements.
The following documents are required during the application process:
- An ID or passport original or copy (certification not required) for adult application.
- A birth certificate or passport original or copy (certification not required) for children.
- A valid work/student visa or permit (except the tourist visa).
- Temporary cards are only valid for the duration of the visa or permit provided.
The lifetime cards (Namibian - CN & SADC - CS)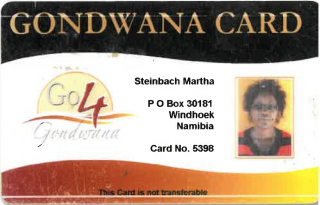 The lifetime cards have no expiry date and do not need to be renewed. Gondwana has ended the issuing of the lifetime card in October 2015. Should you be a holder of this card, please do contact our Gondwana Card office to update your information, kindly note you will be required to provide the physical card. If you lost your physical life card, kindly contact our office. Please note, it is the sole responsibility of the card owner to provide us proof (physical card) of this membership status. We unfortunately do not print these physical cards anymore.
Gondwana membership terms and conditions
· Membership is applicable individually and non-transferable.
· Members will qualify for their discounts, when their reservation and payment is made directly with Gondwana Collection Namibia or via a tour operator registered with Gondwana Collection.
· Rates and details as published on the Gondwana Collection website on date of booking shall apply and are subject to change without prior notice.
· Rates relating to the bookings will be indicated during the booking process.
· No Membership discounts granted for bookings made via Travel Agents, Online Booking Platform (e.g. Booking.com, Expedia, AirBnB, Hotelbeds et al).
· No Membership discounts will be granted on any bookings prior to the issue of the Gondwana Membership number.
· No Membership discounts will be granted on expired Membership status.
· Discount does not apply on Klein-Aus Vista Camping and Geistershlucht Cabin as the price is already low.
· Refunds will be processed according to the Gondwana Collection cancellation policy applicable.
· Adults from 14 years older – Membership applicable.
· Children from 6 - 13 years - Membership applicable.
· Children from 0 - 5 years - No Membership required.
Membership application process
The Gondwana membership can be applied via three quick and easy processes. You can visit our Gondwana offices in Windhoek, at Hugo Hahn Street" were you will complete an application, make payment and a card is printed instantly. Should you be outside Windhoek, you can apply for your membership status via email (info@gondwana-card.com) and our card administrators will assist you with the process. EFT payment is required during this process and the membership is only finalized once the payment reflects in our bank (normally the next day, subject to banking system).
Alternatively, you can apply via the online platform.
Kindly note this process can only be done with a smart mobile phone and not on a desktop pc. Should you need any assistance with this process kindly contact support team on support@idtoday.com.na or call: +264 81 666 8338.
Please use a different email address for every website application.
Scan the below with a smart mobile phone.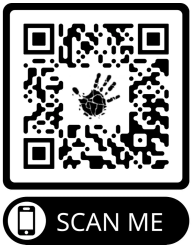 You can send a family member or friend to apply and/or collect your physical card on your behalf as long as they have the required documentation for the application process an ID number and membership number for collection. Due to storage space we only print physical cards upon collection. We are aiming towards the ceasing of printing of physical cards in the short future.
How the Gondwana Membership works
When making a booking with our direct booking office at "Hugo Hahn Street" or our website and with our local tour operators, you should provide your membership number during the booking process for your discount to apply to your booking. Should you not know your number you can provide your ID number (adults only) to the Gondwana booking consultant to trace your profile on the booking system and apply your discounts. For kids we can use their full names and date of birth (YYYY/MM/DD) to trace them on
the system should the parents not be able remember their membership numbers. Unfortunately we do not use passport numbers as they occasionally change.
Presentation of a physical card is not compulsory at the lodges, but Identity documentation will be required during the check in process i.e.; be it your ID or Passport or physical card if you still possess one.
Kindly note that Gondwana membership is on individual basis and non-transferable therefore any client is found using another person membership status, will lead to the membership status being blacklisted and standard rates applied to current and future bookings. Rights of Administration are reserved to Gondwana Collection Namibia.
Reviews:
· This application process was painless.
· Manual application is very nice and short.
· Efficient and consistent service from Gondwana.
· Online application process was easy.
· The online process is quick, easy and efficient.
· New application form is simple, straight to the point and quick to complete.
· Friendly staff, very informative and efficient.
· New website process is user friendly.