Did you ever wonder what makes Namibia special? Just have a look at our A to Z Guide that provides you with a deeper (and humorous) insight into the richness of our country.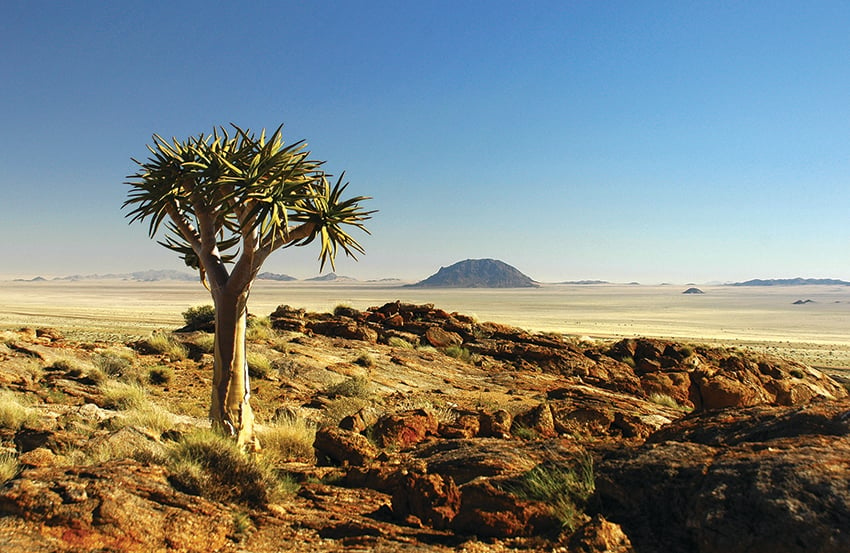 AUS MOUNTAIN EXPERIENCE
Neatly nestled in the Aus Mountains, lies Klein-Aus Vista. It's the perfect hub if you want to explore the coastal town of Lüderitz, the infamous ghost town, Kolmanskop, the wild horses of the Namib Desert or simply the wide-open spaces, hiking trails and natural beauty that the Aus Mountains has to offer.
BUSHMEN
The Bushmen or Sān people, are among the oldest cultures in the world and are thought to be descended from the first inhabitants of what is now Namibia. Although only about 27,000 Bushmen still live in Namibia, their rich culture can still be observed and appreciated in places like Tsumkwe, a small village in the north-eastern part of Namibia.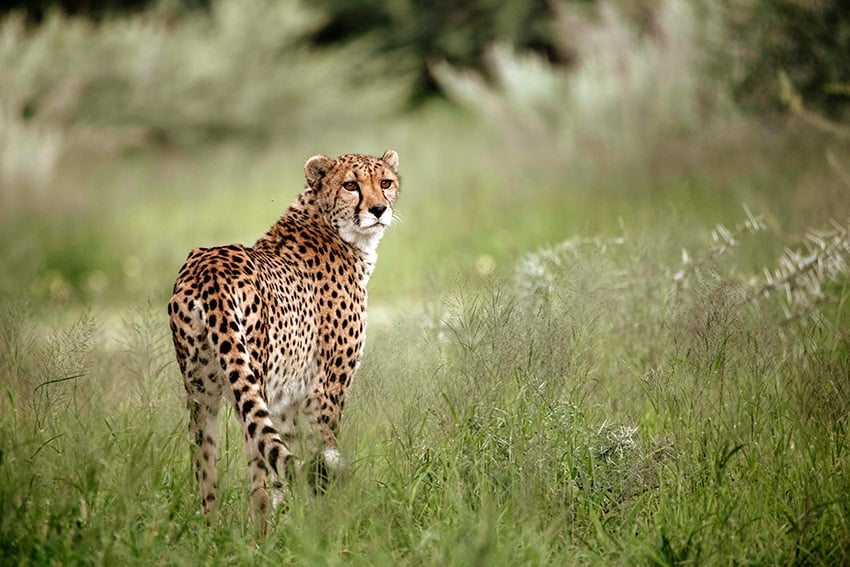 CHEETAH
Approximately 3,500 cheetahs call Namibia home and about 90% of these cheetahs are still living in the wild. There are a few wonderful conservation projects in Namibia to not only ensure that this, the fastest land mammal, does not go extinct, but also to better understand the animal.
DAMARALAND EXPERIENCE
Home to critically endangered black rhinos, desert-adapted elephants and lions, Damaraland is a cornucopia of rare, wild and wonderful animals. The landscapes are equally wild and hold treasures of its own in the form of prehistoric rock art at Twyfelfontein, the Petrified Forest and the Namibian Organ Pipes, all of which are must-sees when you're in the area.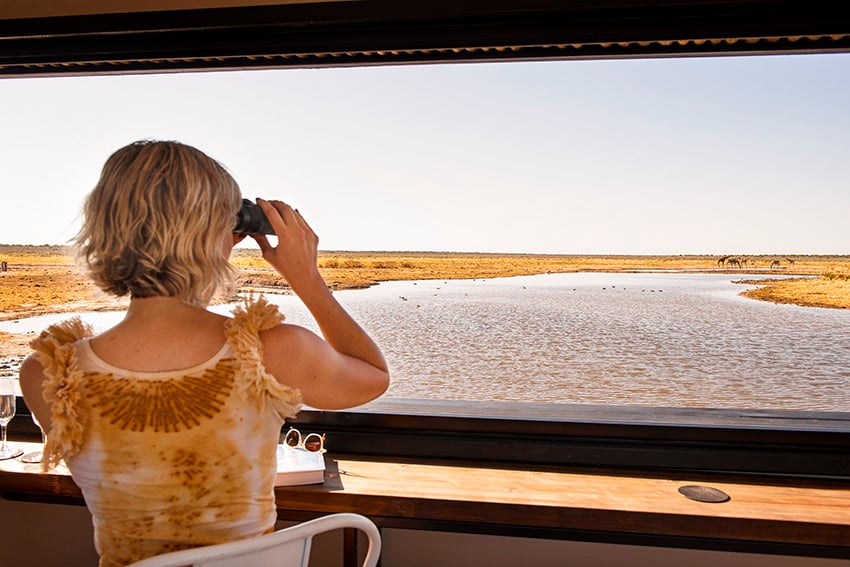 ETOSHA EXPERIENCE
The biggest reason to visit Etosha National Park would be the wildlife, which include lion, giraffe, elephant, leopard, cheetah, wildebeest, kudu, oryx, zebra and eland to name just a few. Etosha King Nehale makes this experience even more memorable by offering access to a secluded waterhole where you are guaranteed to see a variety of animals, including the majestic African elephant.
FISH RIVER CANYON EXPERIENCE
Did you know that the Fish River Canyon is the largest canyon in Africa? This fact alone should be enough to draw you in, but if you're the adventurous type, it also offers the opportunity to do a five-day hike to truly appreciate the immense scale of this ancient canyon. It features a colossal ravine, about 27 km wide, 160 km long and almost 550 meters deep in some places.
GO2 TRAVELLER TRANSFERS
Now travelling between most of Namibia's major cities, Go2 simplifies your transport needs. There are no car rental fees, no maps, no confusion and it gives you the opportunity to catch up on some reading while being chauffeured around.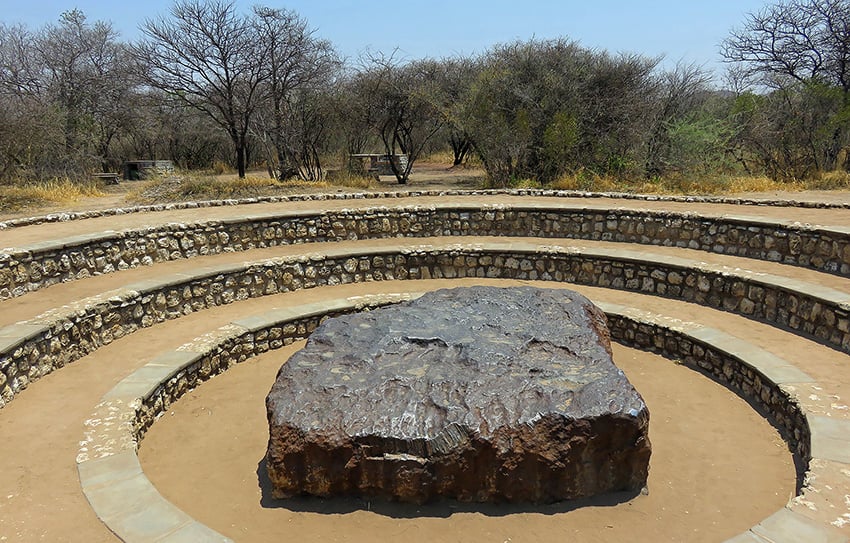 HOBA
Namibia has a lot to be proud of, but one of these points of pride spent more time outside of this world than inside it. While it supposedly fell to earth approximately 80,000 years ago, the boulder is estimated to be between 200 and 400 million years old. Situated near Grootfontein on the Hoba West farm, it has a main mass of more than 60 tonnes and is the world's largest single meteorite.
IMPALA
The impala itself is not unique to Namibia, in fact there are thousands of them all over southern Africa. However, the black-faced subspecies is classified as vulnerable with less than 3,000 left in the world. About half of their entire population can be found in the Etosha National Park and more can be spotted in Kaokoland.
JOH JOH JOH JOH
Four times? Really? It might sound excessive, but in Namibia, if you want to express a sense of wonder, excitement, shock, surprise or disbelief, this is the phrase to use. This versatile word will also plant itself deep into your vocabulary once you experience the unparalleled Namibian scenery.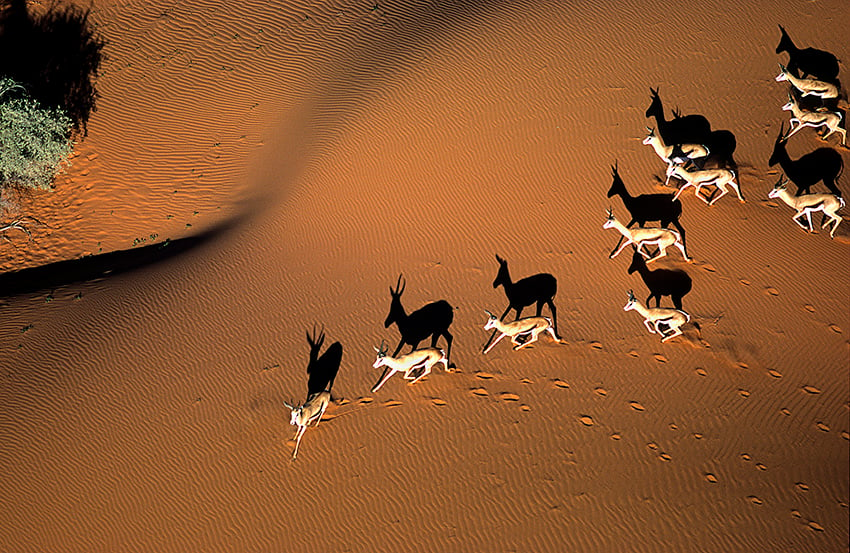 KALAHARI EXPERIENCE The beautiful Kalahari is well-known for the rolling red dunes that form the backdrop to the bright yellow grass and dark green acacias. Add the blue of the infinite skyline to this and you have a recipe for magnificence. The abundance of wildlife is the cherry on the cake as you appreciate the beauty nature has to offer and then you see a Kalahari sunset for the first time…
LEKKER If you look up the definition of "lekker" you'll find words like "nice" or "pleasant". This does not begin to describe the everyday meaning though. It's the word you use to describe an amazing night out with friends, it describes a juicy steak, an ice-cold beer on a hot day and a long-awaited holiday. It is just about the best way to describe the most enjoyable of life's pleasures.
MEERKAT
Although the meerkat is only one of quite a few mongoose species in Namibia, they're worth a mention in this list because of their incredible love of the Namibian sun. This exceptional creature can often be found using their tail for balance as they stand upright, basking in the sun.
NAMIB EXPERIENCE
Since it's a tourist favourite, we'll start with the massive dunes and white clay pan at Sossusvlei, but we assure you, this is only the start of the Namib experience. There are the mysterious fairy circles, the fossilised dunes and a few lone oryx ready to be the subject of anyone's photograph. And then, there's the quiet. Never in your life have you ever been anywhere as quiet as the Namib and this, combined with the wide-open spaces, is why this desert is loved by all who visit it.
OKAVANGO EXPERIENCE
Whether it's a rest stop to the Zambezi or a destination in itself, the Okavango won't disappoint. Crocodiles, hippos and fish eagles are among the animals you might encounter during your visit and in contrast to so much of Namibia—water, lots and lots of water. Boat rides and fishing are some of the most popular activities in this region and should not be missed.
PANGOLIN
Pangolins are considered the most trafficked mammal in the world. The Smutsia temminckii, which is the only species found in Namibia, has been considered vulnerable by the International Union for Conservation of Nature and are being poached for use in traditional Chinese and Vietnamese medicine, even though no scientific evidence exists for the efficacy of those practices. Namibia's Ministry of Environment, Forestry and Tourism started the Namibian Pangolin Working Group in an attempt to address wildlife crime and protect these amazing little creatures.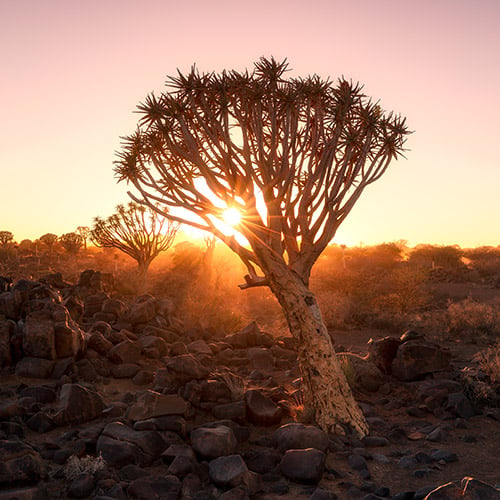 QUIVER TREE
The quiver tree, which gets its name from the Sān people who used to use its branches to make quivers for their arrows, is indigenous to parts of southern Namibia. Due to the effects of climate change, these trees have become endangered. Gondwana Canyon Park rangers have thus been nurturing seedlings at Holoog Nursery and now, even you can make a difference by adopting a quiver tree.
RHINO
Another one of Namibia's endangered treasures is the rhino. With the second-largest white rhino population and around a third of the world's remaining black rhinos, the Save the Rhino Trust Namibia has a full-time job of trying to protect these majestic creatures from extinction. Many lodges and farms are even asking guests to please not post pictures due to the sensitive nature of the rhinos' survival. However, we can proudly say that a lot is being done to not only protect the surviving population, but also to apprehend and bring poachers to justice.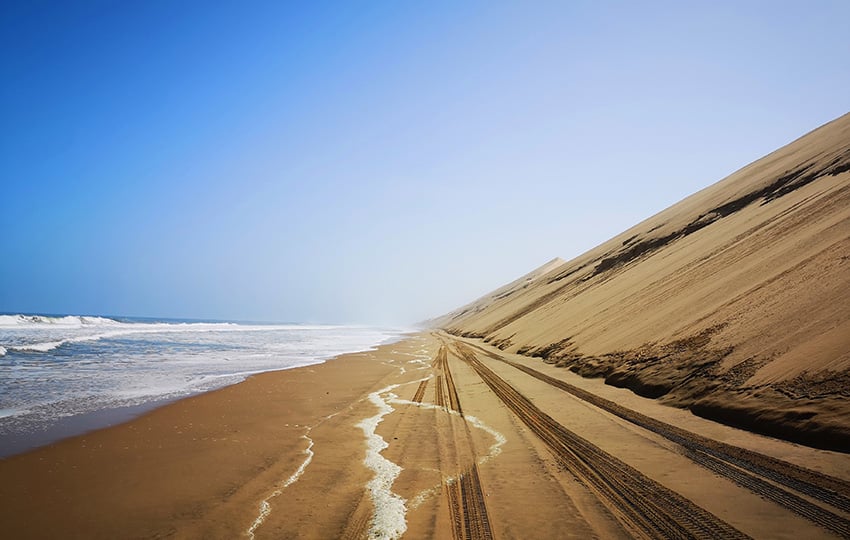 SWAKOPMUND
Swakopmund is one of the hardest places to summarise in just a few sentences, because it really feels like an oasis in the desert. With its tendency to be cold and misty, it's a great place to breakaway in the middle of the scorching hot summers that Namibia is famed for, but it's also so much more than that. The beautiful sunsets, the sea of dunes that are only separated from the beach by a salty tar road, the amazing restaurants and beer gardens, the unsurpassed hospitality, the boundless activities and places to see… You have to experience it to truly appreciate it, but once you have, you'll catch yourself looking at property prices.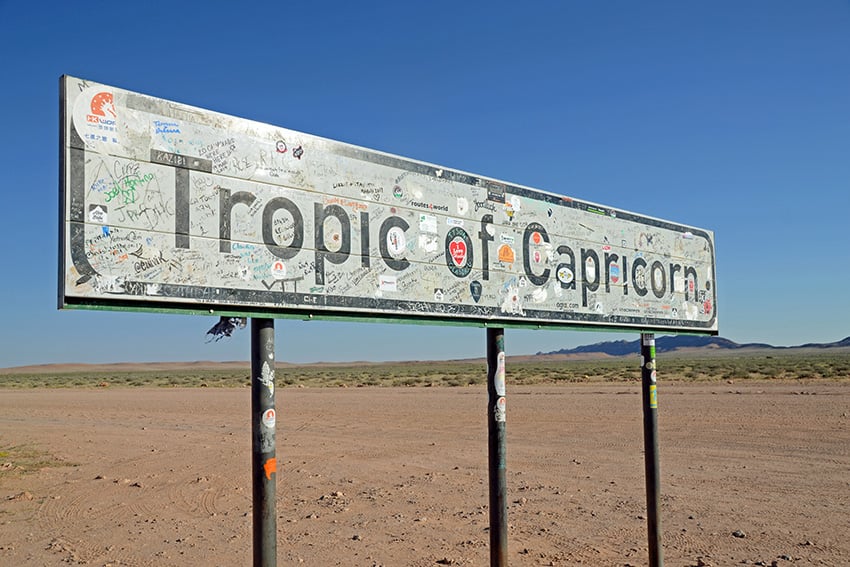 TROPIC OF CAPRICORN
Although many wouldn't consider this a reason to visit Namibia, you might be surprised to know that the road signs where this circle of latitude is marked, are some of the most photographed attractions in Namibia. In fact, you'll struggle to find an open spot to write your name (if we were to encourage you to do such a thing) on one of these signs as it is filled with traveller stickers, signatures and names from around the globe.
UNIQUE
We've used this word a lot in this article to describe aspects of Namibia, but there are really few words that describe it better. When you sit on top of the dunes and you hear it singing, when you drive to your destination and there's no civilisation around for 200km in all directions, when you see animals thriving in the middle of the desert and then finally, when you catch a glimpse of all Namibia's extreme landscapes that are simply unparalleled. That's when you truly understand why Namibia is so unique.
VERSTILITY
With two deserts, savanna plains across its interior, woodlands in the north, freezing cold evenings, scorching hot days, ice-cold Atlantic waves that break over the desert sands, Namibia could easily be personified by someone with multiple personality disorder. In terms of travel though, that means that you get to experience the best of all worlds compounded into one. Combine that with the stunning wildlife viewing opportunities and you really can't ask for more.
WINDHOEK
Windhoek is the capital city of Namibia and for many it is simply a pitstop on the way to a greater itinerary. It does however have a lot more to offer in the form of cultural and historical attractions, a range of excellent restaurants, bars and clubs (for the young at heart) as well as shopping malls and dozens of curio shops. Boredom, in other words, is a foreign concept to the residents of this lively city.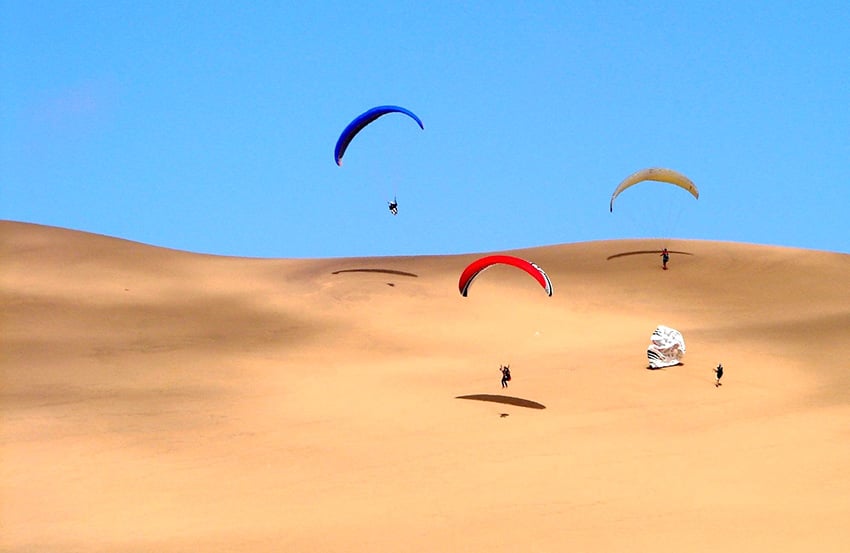 XTREME SPORTS
Linguistically this one's a cheat, but that's what being extreme is all about—ignoring the laws of logic and in some cases, gravity, and just living in the moment. Overcome your fears and embrace adventure by doing any or all of the following: skydiving, sandboarding, kitesurfing, quad biking on the dunes, rock climbing and paragliding.
YUM!
If you've had a juicy Springbok steak at Joe's Beerhouse in Windhoek, some kapana from Single Quarters in Katatura, biltong from Wilhelmstal en route to Karibib or fresh Steenbras from Fishy Corner in Henties Bay, you'll likely never want to eat meat from anywhere else in the world. There are, however, also many culinary adventures waiting to happen in Namibia—Vetkoek (deep-fried bread balls), Omagungu (mopane worms), Omboga (wild spinach), Potjiekos (stew cooked on an open fire), Omajovas (termite hill mushrooms) and !Nabas (Kalahari truffles), some of which you will find divine and others that you'll struggle with, but when it comes to Namibian cuisine, never refuse an invitation and never resist the unfamiliar.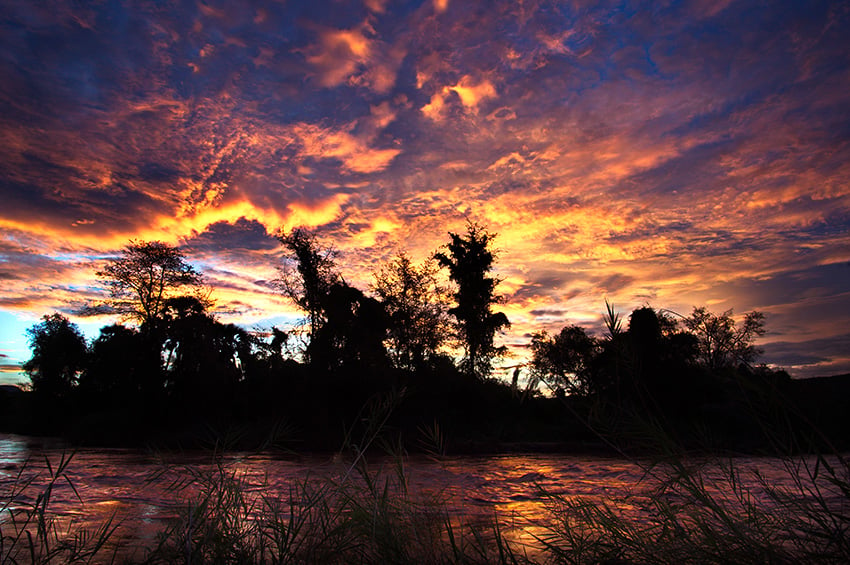 ZAMBEZI EXPERIENCE
Not unlike the Okavango experience, the Zambezi experience is built around rivers, but if you really want a rich and meaningful Namibian experience, this is the one to choose. When it comes to wildlife even the Cape buffalo can be spotted here, the birdlife is also more superb than anywhere else in the country. Lush green grass, woodlands and flood plains define this region and make it unlike anything you've ever seen or heard of in Namibia.
Author: Annette Beyers
Photos: Gondwana Collection