Growing up we weren't allowed to be "iPad kids". We were told that our TV's are the windows and we should watch our surroundings as entertainment. We did travel quite a lot, but didn't ever take gravel roads as my family was prone to getting car sick and I refused to sit at the back alone.
When I had the chance, I started traveling all over Namibia. I hadn't actually travelled in my own country before the past three years. And I still have a lot of places to see.
One thing that always catches me in awe is the stunning landscapes of our Country that no picture can ever compare. The first trip I went on was to the Namib, and although this road is often travelled, it is a breathtaking view from the Spreetshoogte Pass. From there, going to the Sesriem Canyon or Sossusvlei is just as astonishing.
They always say that the journey isn't the destination, and in Namibia every journey is spectacular. No matter where you go, there is always so much to see. From animals, to trees and magnificent scenery.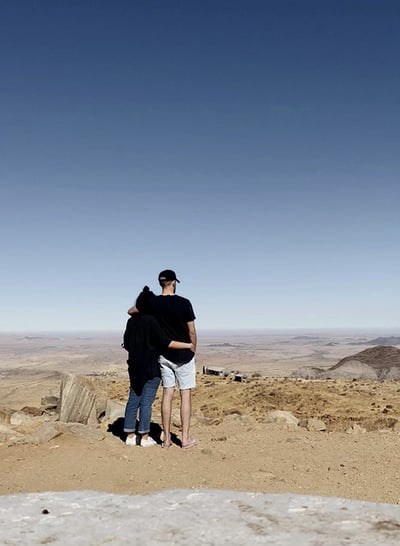 After traveling to the south, it's a great idea to drive straight to the coast. The vista on this road is unlike any I've seen before. There are some great spots to stop and have a snack or a quick break from driving. As the mountains hug you all around, you'll make your way to Walvis Bay. While in Walvis, why not stop at Sandwich Harbour and see how the sea kisses the dunes hello. Just make sure what times you go in, as you might not be able to get out if the tide is too high.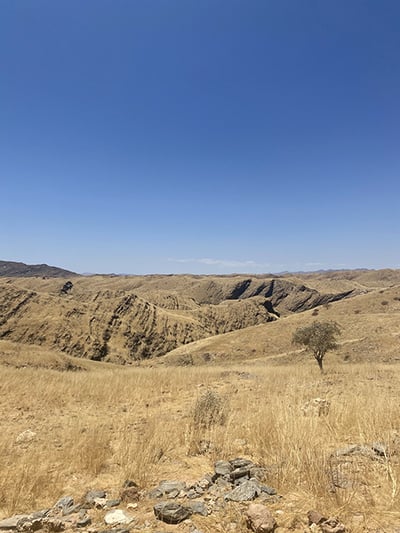 The north of Namibia is a place I am not as familiar with, at least the other day we got to travel to Palmwag. Driving there we went via Khorixas and decided to take Kamanjab back to Windhoek. Both routes have wondrous views, but I would definitely say that Kamanjab is the preferred way to go. The gravel is smoother and easier to drive, and it's nine minutes shorter. The best part for me on both routes were all the vendors selling gems and goods. It was fascinating to see something every hundred meters.
I have so much still to see and I can't wait to explore the rest of this beautiful country. What route is your favorite?
Author & Photos: Geena Visagie