On a recent trip to Etosha, filming a new project which will soon be announced, we came across a newlywed honeymoon couple, Philip and Natu Haulyondjaba. They chose to spend their honeymoon in the Etosha National Park because it is close to their home, Omuthiya.
Upon asking the husband, whether he is planning on leaving his wife in Etosha, we were met by confused looks and explained the occurrence of a woman that was left at a lodge near Etosha.
We invited this wonderful couple on a special honeymoon stay at Etosha King Nehale, as a wedding gift from Gondwana Collection Namibia. The Lodge Manager, Lauren Adriaanse sneaked in a quick interview and a photo shoot of the two love birds:
"What does it mean to you to treat your lady like the queen she is?"
Philip responded first, saying that to him it means trust, mutual understanding and having respect for a noble woman. It means sticking to what God says about marriage in the bible. To that Natu suggests, that treating her husband like a King means seeing his true value and worth, and respecting him as her husband. "It means honouring him the way I expect him to honour me." She also adds: "To us it has a very traditional meaning – Philip is the head of the marriage, but it doesn't mean that I am less than him. He is the King of our household and I stand beside him as an equal." They look into each other's eyes for a moment, and Philip adds to the answer, that love means that everything falls into place. A loved wife is a happy wife. In the background, Lauren laughs and says: "Happy wife, happy life".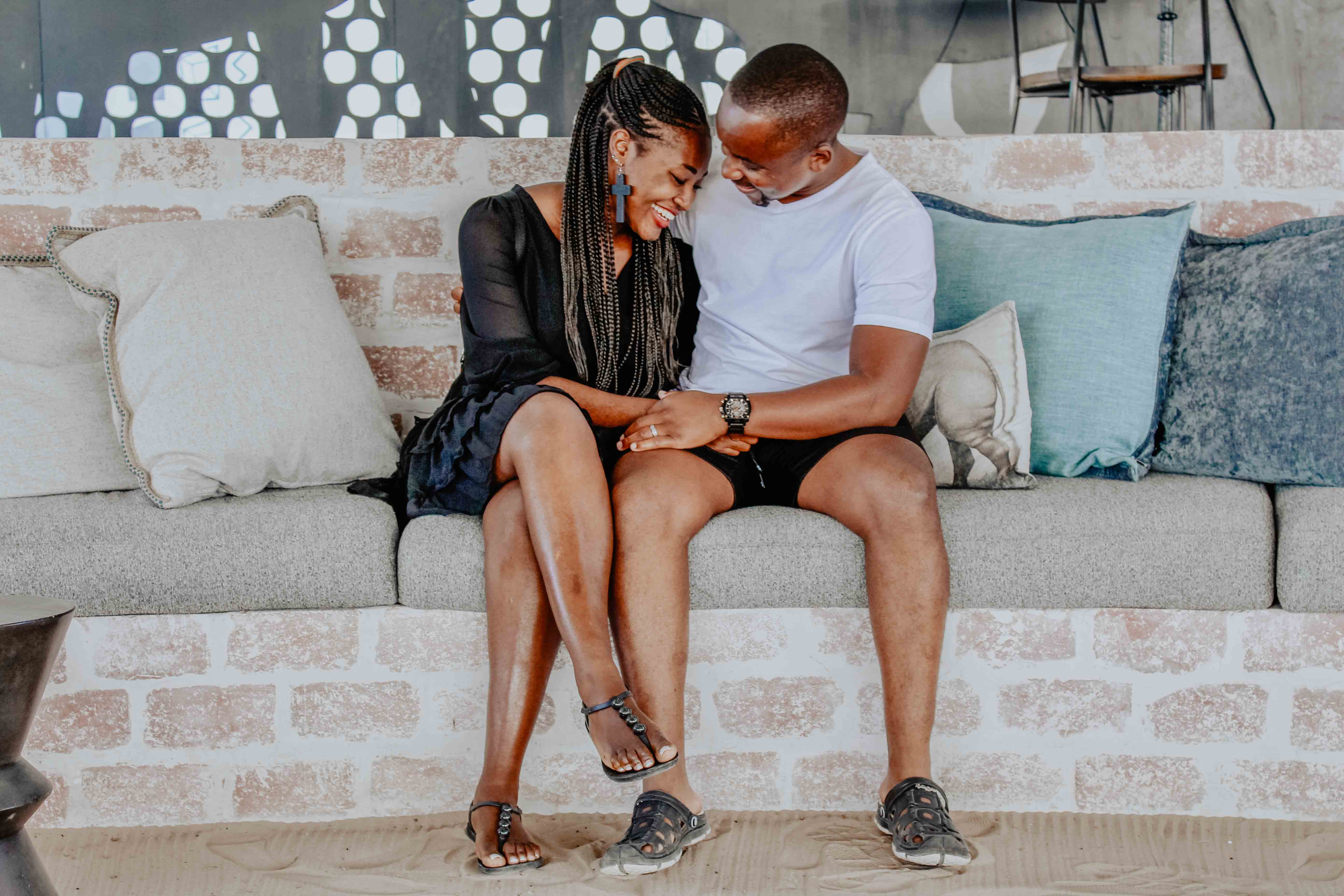 In the interview, Philip takes a moment to address the story about being left in Etosha, and shares a piece of advice: "To leave a girl in Etosha – Who does that? Let's respect women and treat them like Queens." His wife nods and adds: "It's all about choosing whom you want to be with and then committing to your decision."
Lauren asked the couple, what it means to them to stay at a place where they can feel like royalty:
Natu starts off by saying that staying at Etosha King Nehale reminds her of her worth. "It makes you feel valued. The employees here treat you with friendliness and extra attention to the smallest things. We are honestly just living a beautiful life here. Everyone deserves to experience this quality once in a while." "I feel like a King", Philip laughs and continues to explain what it means to him. "It's a dream come true. Being at a place of royalty shows how valuable my Queen is to me, because she is here at Etosha King Nehale – With me. It teaches me to take responsibility, because living like a King requires some sort of manning up, in order for your wife to live her dream. She deserves the best, so I will give her my best. It makes you behave in a royal manner."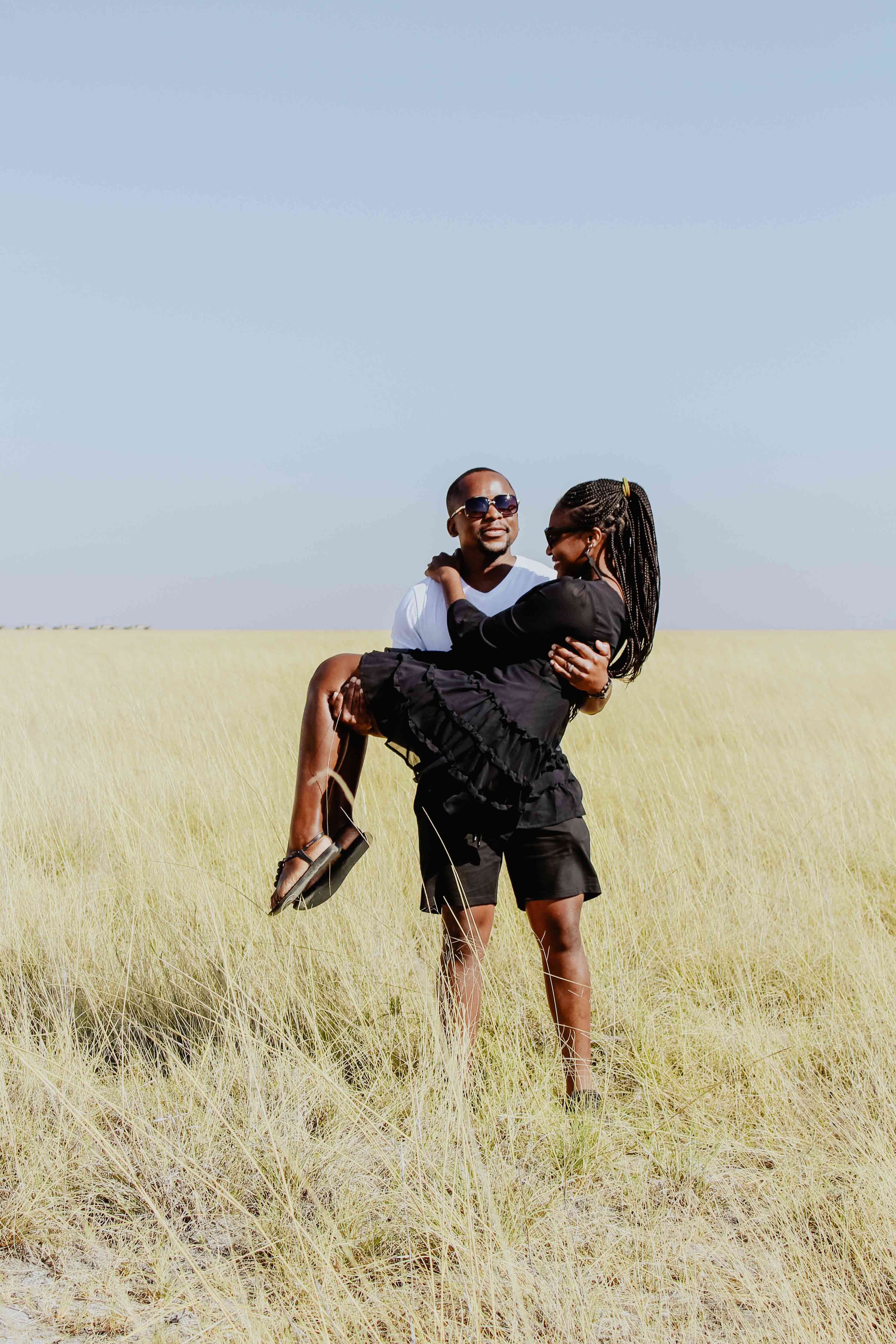 "Did you treat her like a Queen?", Lauren asks.
"Uhm, yes…" There is a short silent moment.
Everyone starts laughing at the same time and Lauren teases that it was a very nervous laugh from Philip's side.
As Natu looks at him, Philip laughs and answers: "I believe so. She is happy, she is smiling, she feels loved. This has been the best moment ever since our marriage started and I believe and trust that we will maintain this lifestyle of caring for each other. Treating her like a Queen is in the smallest details, a hug or a kiss."
Natu looks at him in a dreamy way and agrees: "I feel like I'm in good hands." One can see from far, that these two are so in love and we are very happy for them.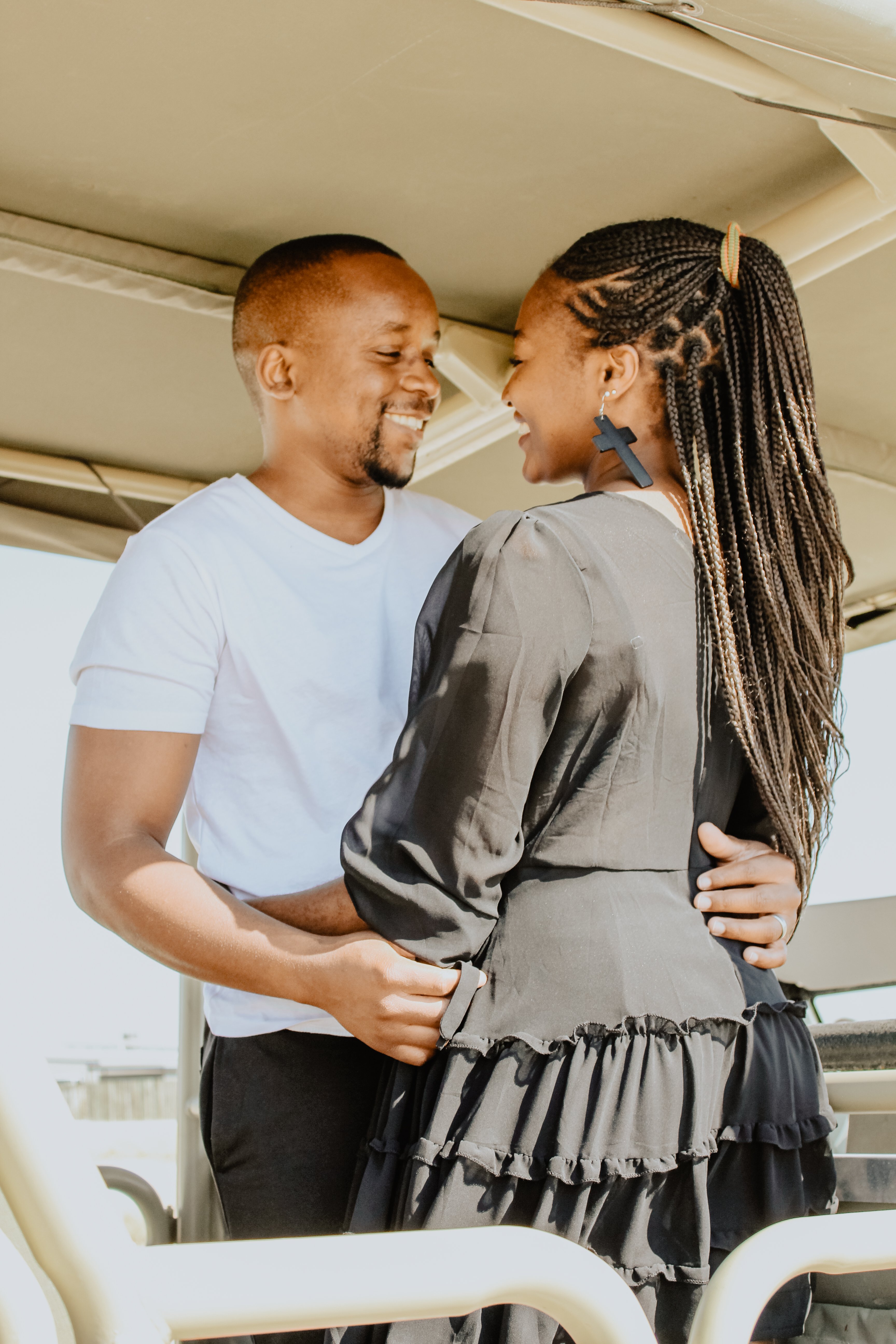 "What do you like about the lodge thus far?"
Philip doesn't need much time to think about his response this time and starts. "I love everything. The nature, the incorporation of the cultural heritage of the Oshiwambo tradition. I love the entrance to the restaurant, when you come in your eyes meet this big chandelier made of omaholo, which are traditional beer cups. It is the richness of our culture. The name honours the background of where we come from and speaks for itself. You can never get tired of this. It's a King and Queen's lifestyle."
Natu smiles and says: "It's the décor for me." She laughs as Philip gives her a look. "Everything is detailed in such a manner that it in some way tells a story. From the engravings on the tables, to the mirrors in the bathrooms, it is a palace and everything represents the Kingdom. It is refreshing and has a very different touch than other lodges. I like everything, wilderness, food and customer service."
Philip suddenly interrupts and admits: "This is actually the first time that I ate jollof rice." Everyone starts laughing and his wife is shaking her head. "I always see it on television, so this is an amazing experience for me."
Lauren moves on to her last question: "What is your typical sign of showing love for each other on a daily basis?"
Philip takes lead to answer: "Her love language is physical touch. I hug her, kiss her and compliment her looks on a daily basis. When I walk with her, I hold her hand to lead her into whichever direction we are going. I need to protect her." Natu starts to giggle. "She is my queen, I will always shield her." Natu looks at him from the side and lovingly says that he is doing a great job. "My way of showing love to Philip is spending quality time with him, that's his love language and mine as well in a way. It comes naturally to us and we find it important to talk to each other, especially letting him share what's on his heart, being present and really listening to him. Other ways of showing love are obvious." Both start laughing at the same time and Philip reaches for her hand. "I haven't left Natu in Etosha. She is still here with me."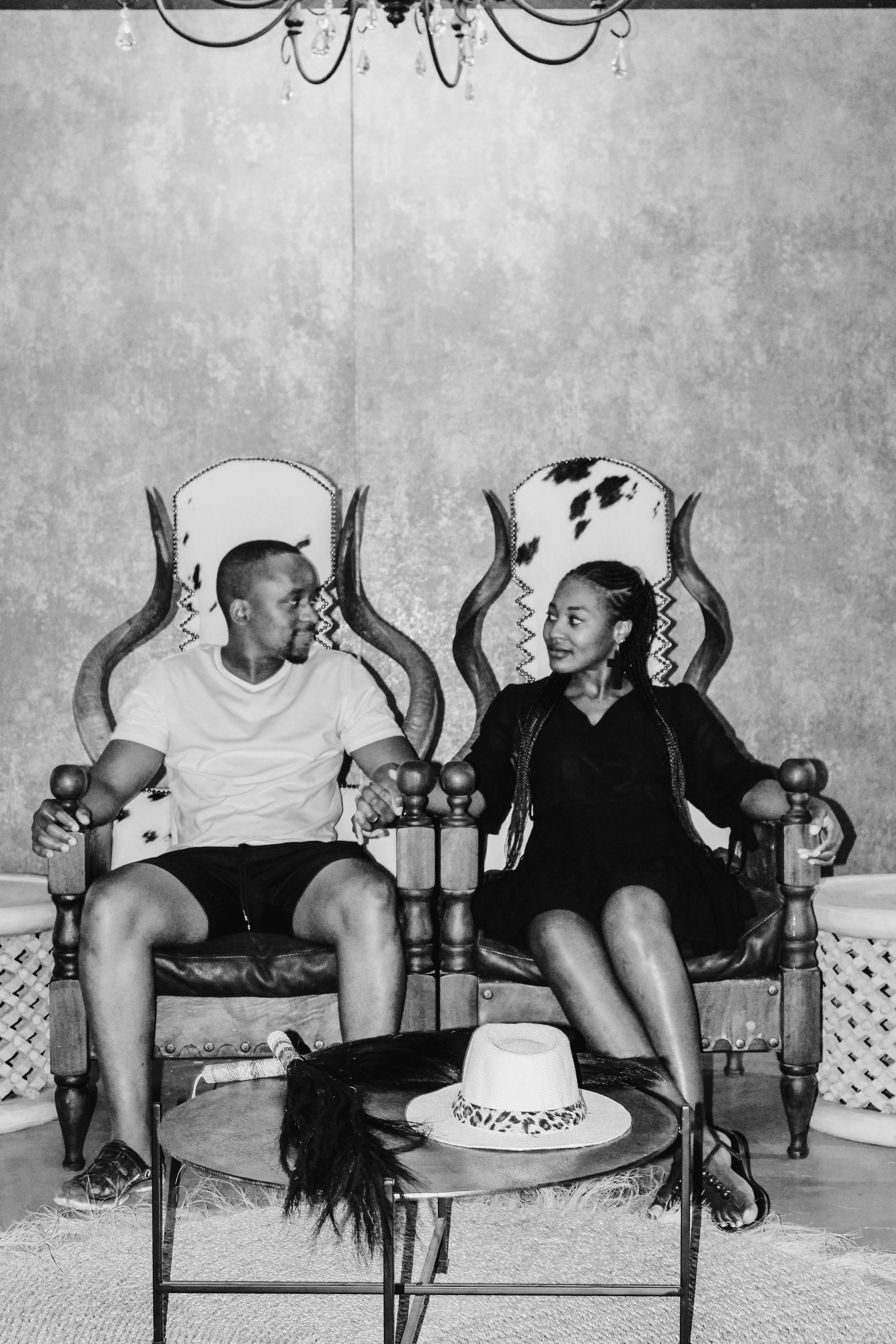 To close off the interview, both turn towards the camera and Natu extends her gratitude to Manni Goldbeck. "We want to say how grateful we are for what you have done. Your generosity has touched our hearts. We had an amazing time here and are being treated like a Queen and King. God bless you and the Gondwana Team, all the best on your journey. It has been a great honeymoon gift." Philip ends off with saying that he feels honoured. "It's a dream come true, we didn't expect it and it was a great surprise. Thank you to Neville and Lazarus for approaching us."
And with this, we left the honeymoon couple to drift away on cloud 9, towards their room at Etosha King Nehale, a place fit for Royalty.
We wish Natu and Philip all the best with their marriage and hope to see them soon again. This is how our ideal love story ends, but also begins. Once upon a time, a King took his Queen to Etosha King Nehale and legends claim that they lived happily ever after in their Kingdom.
Author – Hi! I am Elke, a born and raised German-Namibian. I love to travel around and explore different cultures and places, but my home country always magically draws me back home again. Oh, and if it involves food, count me in on the adventure.