The surf's up in Namibia and we didn't even know about it! Well I am sure everyone keyed into the Namibian (and also international) surfing scene were well aware, as for the rest us plebs who enjoy the waves from the side lines…We have news for you!
Donkey bay, close to Swakopmund and just outside of Walvis Bay on your way out to Pelican Point, is home to one of the world's best waves to surf.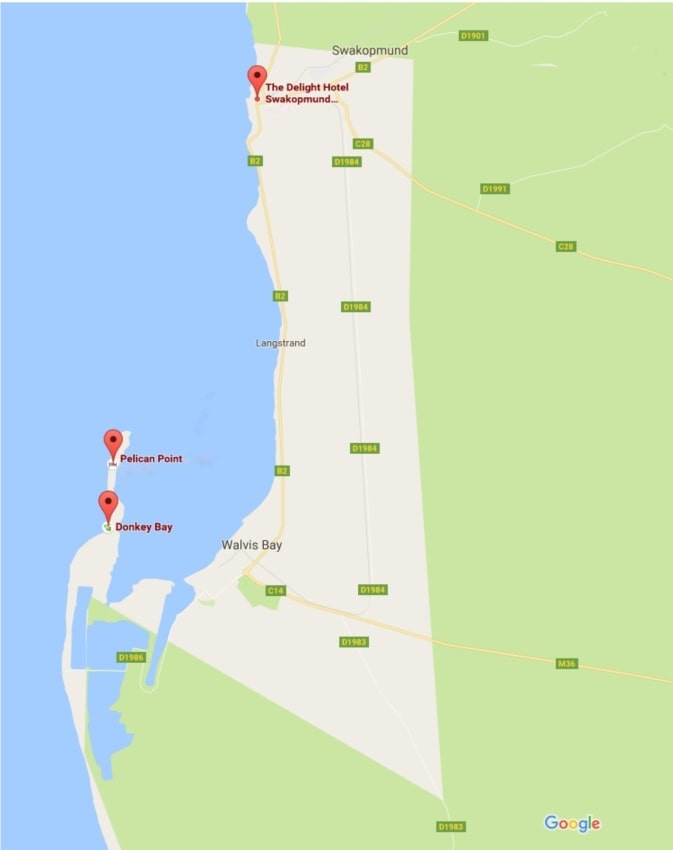 You don't have to take my word for it though, world class professional surfers such as Benji Brand and Koa Smith, to name but a few have made their way to our little coastline to experience this extreme wave. Watch the above mentioned surfers take to the Donkey.
The wave, which has come to be known as the Donkey, was first discovered in 2007 when American Surfing Magazine launched a competition to find new surfing locations around the world. The winner of this competition Brian Gable, found the Donkey while searching through Google Maps and came across something special. And from there on its popularity has steadily increased.
While researching the wave and the surfers who have had the courage to face it, it quickly becomes apparent that the wave is reserved for professional surfers only. The intimidating wave seems to have quite a taste for surf boards as well, as pro-surfer Slade Prestwich says"[He] heard Donkey eats boards for brunch and dinner." Not quite an enthusiastic way to prepare for the wave, but oh well everyone has their ritual. Either way it seemed that he enjoyed the swell in May 2014.
In 2015 this wave was referred to as the best discovered wave in the world, at least for that year. It is known for its barrels that seem to stretch on forever at incredible speeds and has even been said to go for a solid kilometre before settling out. Surfers also explain that the speed of the wave is what makes the ride so incredible, as you can travel about 50 metres in just two or three seconds.
Another regular at Donkey bay is Jordy Smith, the Top World Surf league Championship Tour surfer. This successful surfer used our "little" wave to practice his backhand tube riding for the world class competitions. But the wave can also be terrifying at best, as Sean Holmes, another top surfer was caught off guard while out in the waves. He explains that "one wave coming down the point was so big that I didn't know which way to go," in an interview with Zigzag Magazine. "I made it over the wave, but afterwards I paddled in as fast as I could, as I was way out of my depth." This however did not keep him out of the water for long and he has since returned to Donkey Bay for most swells.
Those in the know (as I am not) explain that the wave is fast and hard, and may be the most difficult wave to get a handle on. This is because every aspect of the wave, from catching the wave to getting to the bottom of it, and then of course holding on for dear life to keep from wiping out on the sand bank that lies just below. The surfers that go out to Donkey Bay are seriously committed to the wave, but never regret the experience it offers them. Something about the Donkey definitely makes the ride worthwhile and keeps these surfers coming back year after year.
Below is a video made by pro-surfers Aritz Aranburu, Naxto Gonzalez and Aletxu Gironi who travelled to Namibia to catch their share of the Donkey and made the best of their time in Namibia, enjoying every experience.
#GOARITZ - NAMIBIA from aritzaranburu.com on Vimeo.
If you need more information on the wave you might just find what you're looking for on wannasurf.com...and for the incoming swells be sure to visit www.magicseaweed.com .
And more importantly, if you have any of your own experiences of the Donkey or more information on the wave, we invite you to share it in the comment section below.
Author – Jescey Visagie is a proud Namibian and is passionate about writing and language. Tag along for the ride as she tries to uncover new insights into Namibia and explores what the country has to offer.