Palmwag Lodge & Camp in Damaraland, part of Namibia's rough-and-tumble Kunene region, is a peaceful green oasis in a landscape of basalt rocks. If you love intense 4x4 routes, Himba settlements and stark desert landscapes, this is your gateway to remote places like Sesfontein, Opuwo, the Marienfluss, Van Zyl's Pass and Epupa Falls.

You'll find Palmwag Lodge & Camp about 80km west of Kamanjab, a beautiful drive through the flat-topped Etendeka mountains and over the 1600m Grootberg Pass along the C40. It's about 160km north-west of Khorixas along the C39 and C43, and 200km east of Terrace Bay in the Skeleton Coast National Park, a take-no-prisoners wilderness where beaches are veiled in fog and the sea is pocked with shipwrecks.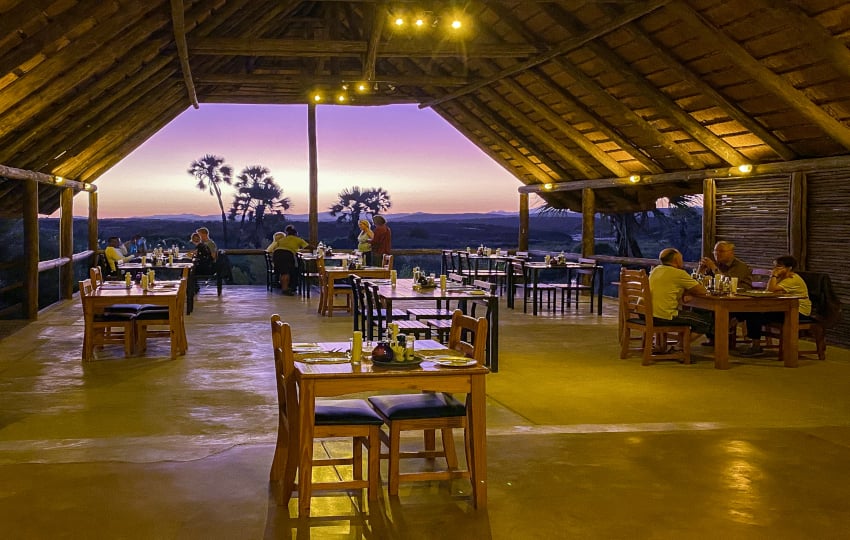 The Palmwag Lodge & Camp dining room. Credits: Keith Reid
The lodge lies next to an underground spring in the Uniab River where makalani palm trees sway in the breeze. During dry times, the water may entice an elephant to the lodge or camp, providing much excitement for visitors. We've seen one of these grey giants here in the past, but not on our most recent visit; there'd been good rains earlier in the year and there was plenty water for them in the veld far away from the lodge.
The almost unearthly landscape of dark red basalt rocks around here was created by volcanic activity some 130 million years ago, before the landmass of Gondwana broke apart. The rocks also contain quartz and iron, which has oxidised over aeons to give them a rusty colour. A scattering of yellow grass forms a counterpoint, grey-green euphorbias dot the landscape, and burnished or blue-grey mountains lie all around, especially striking at dawn and dusk when they're drenched in painted shadows.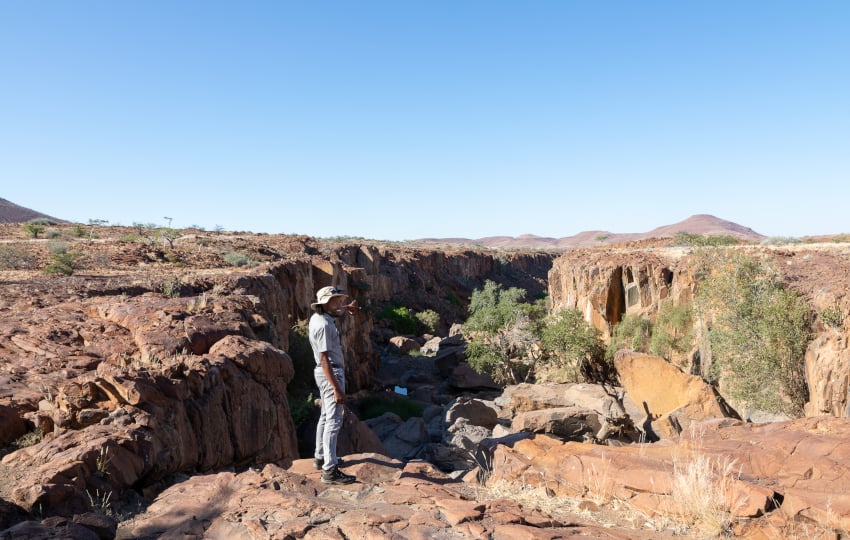 The Palmwag Landscape. Credits: Keith Reid
For me, the magic of this wide-open wilderness is the overwhelming sense of freedom. For a few days, you can put the brakes on the noise in your head, breathe deeply and let your heart dance to a slower rhythm.
To find out more about what to do here, read Roxanne Reid's entire "Palmwag Lodge: gateway to rugged north-west Namibia" blog at the link below.
https://www.roxannereid.co.za/blog/palmwag-lodge-gateway-to-rugged-north-west-namibia
Author : Roxanne Reid
Writer, editor, proofreader and African travel blogger
I am a freelance writer, photojournalist, blogger, editor and proofreader. As a travel writer, I have walked through the Kalahari with a San tracker, camped under the stars in the bare stillness of the Richtersveld, and driven along the Roof of Africa in the high mountains of Lesotho. I have breakfasted in the Okavango Delta with a herd of elephants, walked among the wild horses of the Namib Desert and felt the spray of the Victoria Falls on my face.