The celebration of Easter has different meanings to each and every one of us. We are a nation of diverse cultures, and evidently our religion and beliefs are very different.
Around the world Easter is celebrated in different ways. If you are visiting the south of France, you can indulge in a humongous omelet, a tradition dating back to the time of Napoleon. It is cooked up in the town square using a total of 4500 eggs which feeds about 1000 people.
On the Greek island Corfu; on the morning of Holy Saturday, be sure to wear a hard hat. People throw pots, pans and other earthenware out their windows, causing it to smash on the street.
A very popular tradition in some parts of the world of course is an Easter egg hunt. The whole family takes part in the big search of these rainbow colored chocolate filled delights. Once one of these carefully hidden treasures has been found, a thunderous Hooray fills the garden. I wonder if this is how pirates searching for that big pot 'o gold feels when they eventually find it.
I have decided to go on my own Easter egg hunt around Namibia. At first I thought it was going to be a very tiring and not so interesting hunt with days of searching for Easter eggs but it seems I was wrong. They are scattered all over the country.
The first Easter egg I found was just outside my office. Not just one, but a whole bunch of them together, carefully painted in a contrast of purple-pinkish -red. They are not exactly filled with chocolate, but with an orangey fruit. This is the Cyphostemma juttae or better known as the Namibian grape.
My journey takes off and I decided the beautiful Spitzkoppe to be my first hunting ground. I hear there are magnificent treasures hidden beneath the peaks. On my way, I kept my eyes on any signs I might see indicating the possibilities of the next treasure. Just outside Okahandja, I couldn't resist the temptation any more to have some coffee and had to pull over for a short break. Just as I took the first sip another Easter egg appeared; a birds nest.
It's quite interesting to sit and watch the birds actually. The lady, I assume because of the continuous chatter, seemed a bit unhappy with her newly built home. Flying wildly up and down, back and forth and then into the nest. For just a moment, just long enough for her to take a peek, it gets quiet, before the third degree starts all over again. The poor bloke really tried his best to build a mansion, but she is not too happy with his building skills.
Upon my arrival at Spitzkoppe, I didn't have to look very far for my fortune. Before I go on, let me just give you some facts on my location. The Spitzkoppe which is German for pointed dome consists of granite peaks and boulders located between Usakos and Swakopmond. The Easter eggs I found here are 700 million years old. This has indeed been a pot of gold day for me and I feel lucky about my findings.
I have been lurking around bushes all day and driving like a snail. I quickly realized I have to set up camp right here at the campsite as the sun is already setting. I traced my gaze over the escarpment to take in its beauty and evidently found my next treasure. The sky was set ablaze in a rhapsody of colors as the sun sang a lullaby to greet the day.
Early morning I had to pack up early and head towards the valley of Marienfluss. I was informed there were Easter eggs scattered across the desert floor.
To my surprise, I found much more than anticipated. They are called fairy circles. Their existence is a big mystery to many, but evidence suggests they are the work of a very clever sand termite called Psammotermes allocerus.
My Easter egg basket is almost filled to its brim, but I am sure where I am heading to next, one of the ladies can make me a beautiful and bigger basket than the one I have. That brings me to my next and last stop; the Zambezi Region.
I have a delicacy I cannot resist each and every time I visit the Okavango and Zambezi area. Most people do not agree with my habit but I cannot help it.
The last Easter egg in my basket is …. *****drum roll*** .... The monkey orange! When you crack open the tough yellow exterior, the fruit inside looks like something out of a horror movie and this makes you cringe. I cannot describe the taste to you, and it's not something that really rolls down everyone's taste buds, but It's a must try when you are in the area.
It seems nature has left me with one last egg for the basket, but I will rather pass on this one. Phew, that was really close. I almost drove through it.
Can you identify some of the Easter eggs nature has perfectly placed and laid out for you to find?
If yes, I invite you to send me a mail at pr@gondwana-collection.com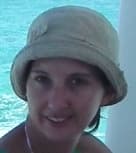 Jessica Thomas is a local freelance writer. She is an eccentric young lady who has a love affair with writing. Get on board her journey of discovery.