I set out on a venture to find camping, hiking and all kinds of nifty outdoor products to make outdoor adventures a little bit sexier and easier. This is a must read if you are a female and love the Namibian outdoors. I know what you're thinking; when out camping or hiking, high heels and make-up should be left at home right? I agree, but this doesn't mean that we aren't allowed to have comfort and our own set of gadgets. I would just like to mention, before you guys come down on me like a brick of walls, this is not only for the ladies. Men, pay attention, there are some nifty products in here for you as well.
I spent an afternoon with the sales people of Bushwhackers here in Windhoek. They sell everything you need, to go camping, 4x4, hiking, mountain-climbing and of course, fishing. It's a one stop outdoor shop to get you equipped and ready to head out into the wild.
My first discovery was a very ingenious contraption called the Van der Merwe Braai. This beauty of a grid makes life much easier because it is attached to a chain. Gone are the days of struggling with thongs and keeping the grid open. No more running looking for bandages for your burnt fingers or apologizing for your better half for screaming at the dog that snatched up the pork chop that fell on the ground. I mean, that could have gone back on the grid right. The Van der Merwe way is as easy as pulling the chain. Now you have more time to mingle.
Have to get your caffeine fix, but don't like the taste of coffee that has been sitting in the flask since you left home? Get yourself a mini car percolator. It's a 12 V coffee machine that you can plug into the lighter port. No more old coffee on the road. Make it fresh and as added advantage, your car will have that divine smell of freshly brewed goodness. It's a 2-in-1 bargain.
We're sticking to the brewed goodness for a moment. When out camping and bushwhacking, it doesn't mean you have to miss out on the good things you have at home. There are ways to have it all. Like this odd looking piece of equipment. Can you guess what it is? It's a stainless steel mini espresso maker. You place all your ingredients in the bottom and your espresso cup on the platform, place it on the fire, and within minutes you have fresh espresso to give you the boost you need for the day's activities. They are available in a variety of sizes.
As we are on the cooking and boiling side of things, another life-made-easy product is from Rossley Foods. It's literally a just add water product without the hassle of driving around with trunks of groceries. Baking pot bread while camping has never been this easy.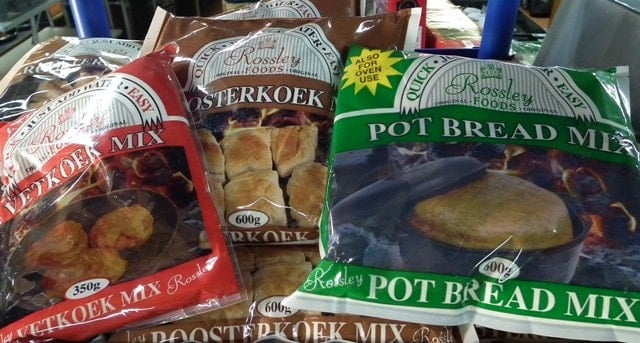 To bake bread, you would need a pot or a casserole. I have found the most stylish pots that would land you on the front page of a stylish camping magazine. Apart from the fact that these casseroles are designed for outdoor cooking, they have no other special function except that they are stylishly colorful and available in different sizes.

Another 2-in-1 handy apparatus that looks like something out of the 60's is the Piet-whistle. Fill it with water, place on the fire and when the whistle blows, you're good to go. Not only do you now have boiling hot water, but the Piet-whistles' flat surface and corners transform it into an iron. Wrinkled clothes are not acceptable.
If you are at a spot where it is impossible to light a fire, the Dragon fly MSR Whisper light, fits into a bag as big as your fist, and can be assembled in a jiffy. For hikers it's the perfect solution with a weight of less than 500g (packed). The canister can be filled with fluids like paraffin, Kerosene / Unleaded Petrol.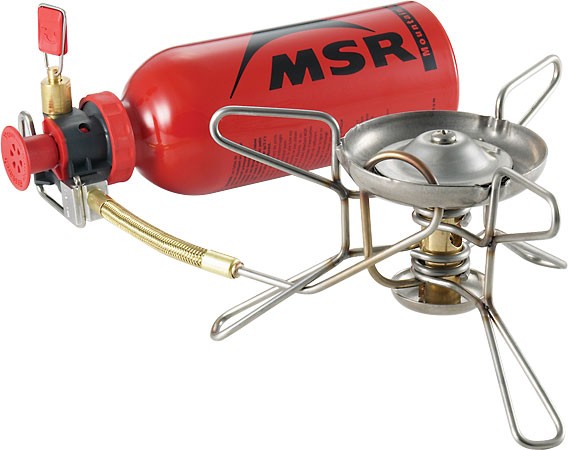 Let us be moving on to the sleeping side of things. Gone are the days of struggling to pitch a tent. After a day of activities and hiking, you shouldn't waste your last straw of energy on this. Having a big tent setup with a porch and a coffee spot for the next morning is a good feeling, I mean just look at how comfy I am.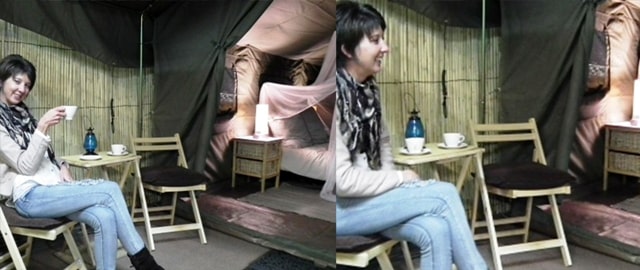 This is not always possible and setup will take hours.
There is an easier solution: The Front Runner Flip Pop tent. Take it out of the bag and it pops open. Insert the tent stakes, and you have a place to rest. Assembling the Flip Top is just as easy. With the help and instructions of the Sales Assistant, Rodrique, I successfully folded it with the first try. It's real easy.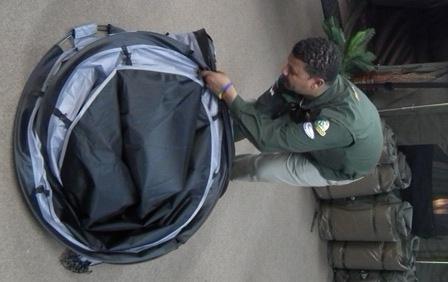 Another made easy by the experts is a self inflatable mattress. Take it out of the bag, open the valves and place it on the floor. It will unwind and inflate right before your eyes. Close the valves and relax. Not only is this a super quick but it gets 10 out of 10 for comfort too. To deflate, open the valves and start rolling, applying pressure in the middle of the roll with your knee. At some point this roll gets a bit big making it quite the challenge. The solution is to roll with your hands placed on either side of the mattress while still applying pressure with your knee. I wasn't very successful with the roll up practice, because when you stop rolling, the valves suck in air again. Needless to say it took me longer than a normal person to get the mattress deflated as I was not aware of this particular piece of information. I got the hang of it eventually.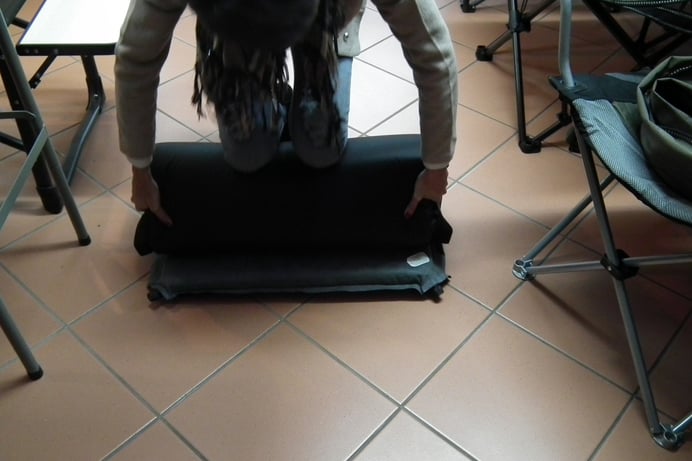 For the serious hiker you in you, you don't have to go anywhere else. Here you can get from a neck buff to comfortable hiking shoes, utensils and sleeping bags.
An important factor to hiking is traveling as light as possible. It is very important to look at small and compact products and gadgets to make your life easier.
Some of the products simply blew my mind. How do you fit a towel in a bag that is as big as a cricket ball? The micro-fiber towel is 60x 120cm big and dries within a few minutes. Amazing right? There are various products to make your life easier from fold-able mugs, bowls and cups to a 10 liter kitchen sink. The clever part about it this is – it all fits into your backpack.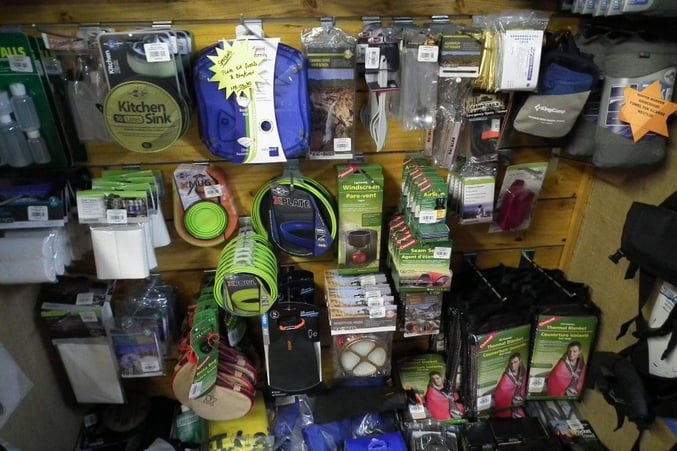 While we're on the backpack subject, I have found this illustration from Walkerwalker showing exactly how to pack your backpack to ensure your load is lighter.
Not only can hiking and camping enthusiasts be geared up at Bushwhackers, but serious fishermen too.
Hannes, the sales assistant in the fishing department, knows his stuff and will make absolutely sure you have everything you need. From the tackle box, to spinners and rods, flavoring, down to the type of reel to make your fishing outing successful and fun.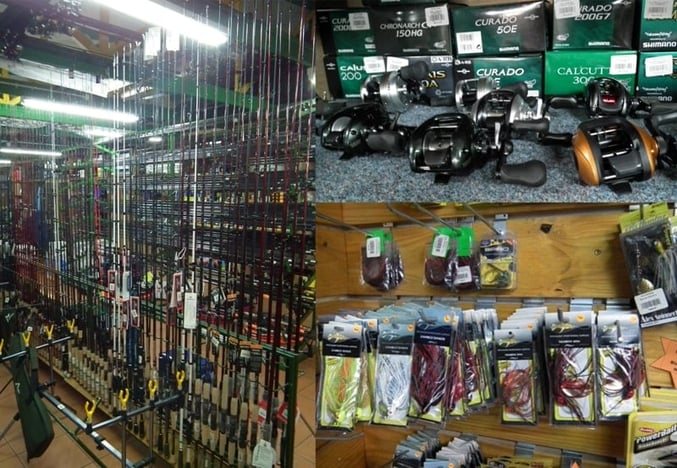 Thank you to the team of Bushwhackers for showing me around and making sure I am geared to take on the wild of Namibia.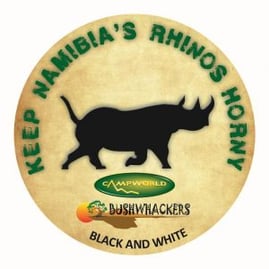 For a Gondwana Camping experience visit the following links to our website:
Klein Aus Vista - Desert Horse Campsite
If you have any camping tips or know of a special place to camp in Namibia, I invite you to share in the comment box below.
Jessica Thomas is a local freelance writer. She is an eccentric young lady who has a love affair with writing. Get on board her journey of discovery.