Celebrate 75 years of Volkswagen and win 75 Gondwana nights by participating in the Gondwana Volkswagen Jubilee Competition from 10 June to 31 August 2013.
Post your favourite Volkswagen photo on Facebook or via email to pr@gondwana-collection.com. Add a short description and your email address.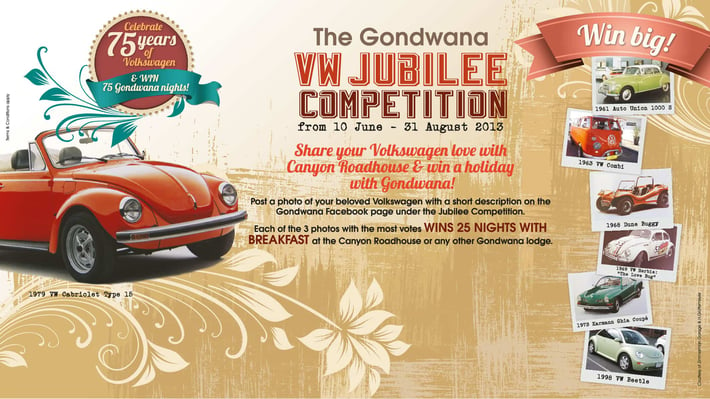 All photos sent to us by email will also be published on Facebook, the site of the competition.
You can upload one or several photos. The size of each picture should be less than 2 MB.
The competition closes on 31 August 2013.
The prize for each of the 3 photos with the most votes is 25 nights with breakfast at the Canyon Roadhouse or any other Gondwana lodge.
Winners will be notified by email and receive a voucher for their respective share of the prize.
Vouchers are valid until 31 December 2014.
Vouchers are transferrable but cannot be exchanged for cash.
Please note: By participating in our Gondwana VW competition you are releasing your photos for publication on Facebook and other social media. We recommend that you keep the files rather small (200–400 KB) in order to guard against abuse.