As the Nama legend goes, a gigantic snake was preying on the people's livestock. They eventually could bear it no longer and armed with knobkieries and spears, they attacked the greedy snake. The meandering serpentine shape of the canyon with its deep fissures and ravines is said to have been caused by the giant snake's writhing death throes.
Or, so guide Manilow narrated as the wind howled outside Battlesnake Camp, which was perched on the top of a canyon cliff like a black eagle about to launch. Manilow added a bit of drama and creativity, stamping his stick on the ground for effect as the wind blew with a vengeance against the cosy kitchen cabin.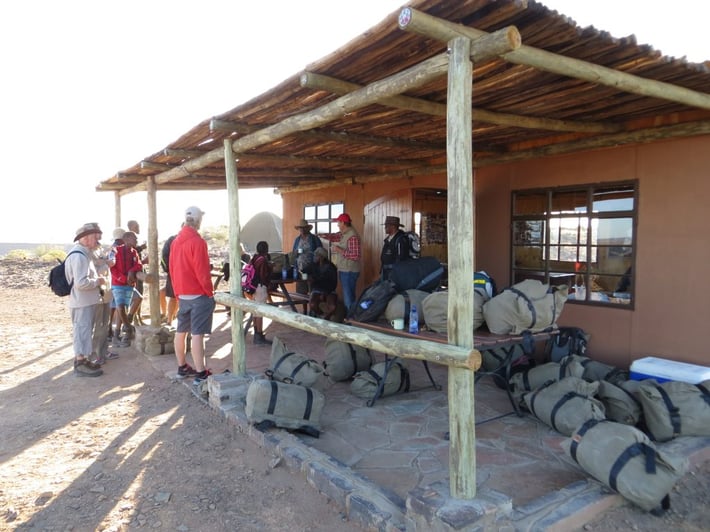 The group of hikers, comprising shareholders and their families - both German and Owambo - and Gondwana staff laughed amidst the flickering candles, whilst dining on juicy steaks and potatoes cooked by mule-pack leader and head chef, Frederik Witbooi, and his team of two. We weren't going to go hungry on this trail and Mattheus, one of the 15 year-olds partaking in the hike, was still raving about the three-course meals, especially the desserts, days after the trail was over!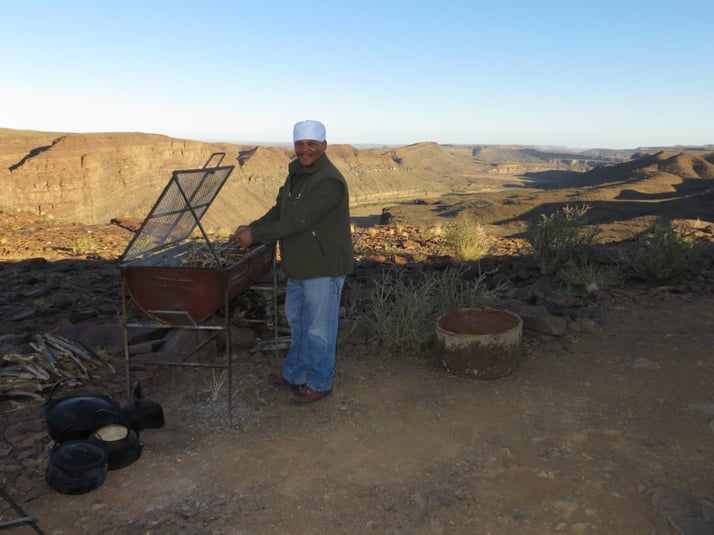 This was a trail with a difference as I immediately realised and a lifetime opportunity to explore the northern reaches of the canyon. While the main 90km canyon trail offered by Namibia Wildlife Resorts (NWR) and Ministry of Environment and Tourism (MET) traverses the depths of the canyon and hikers are required to be super-fit and –strong, and to carry their own supplies for the five days, Gondwana's mule trail is a slack-packing experience where the mules carry the loads. This is the gentler option offered for the entire family (our group's oldest member was 78 and our youngest, 10). It also balanced the walk by positioning two of their camps on top of plateaus for stupendous views and two down below. All the locations were handpicked to offer something special. Carol, one of the hikers and a pilates teacher, summarised it perfectly. "You start off on a high and you end on a high," she noted.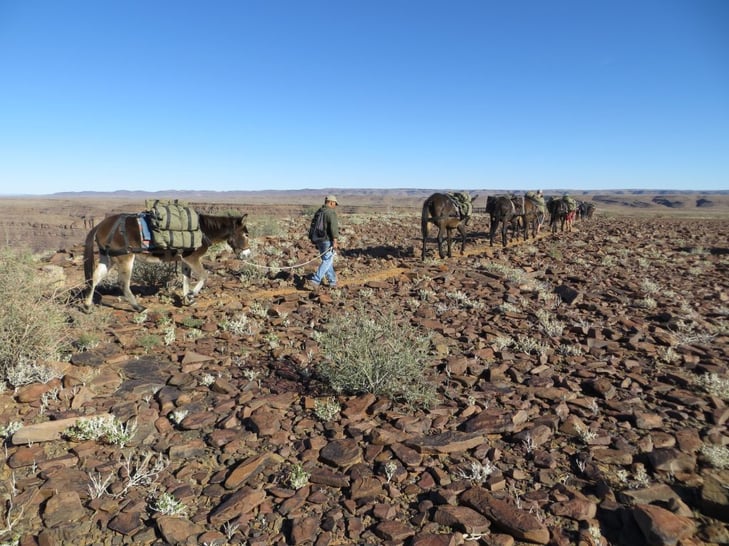 And such was this special trail that had been polished to perfection over the years by the Gondwana team. The mules, especially bred for the trails, were tethered on a picket line outside and beds with soft mattresses awaited us in our tents. After star- and scorpion gazing, we were happy to leave the snake battling with the forces for the night and curl up in comfort.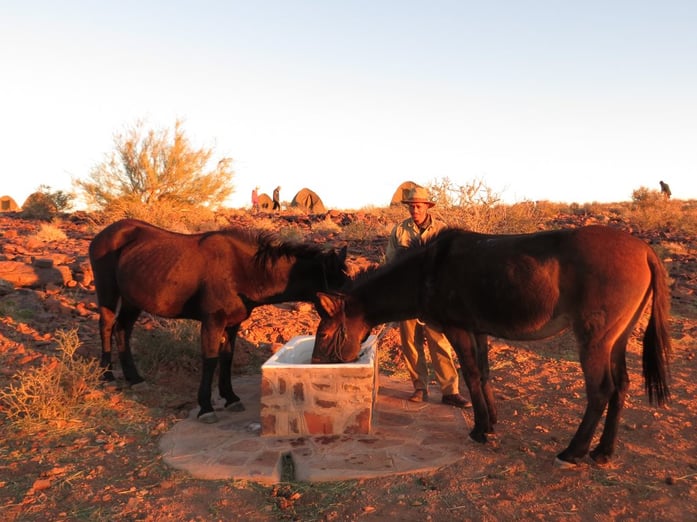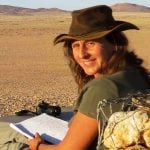 Ron Swilling is a freelance writer, based in Cape Town, writing for Namibian and South African publications. She is a regular contributor to Gondwana's History and Stamps&Stories columns and documented the intriguing information of the Wild Horses in Namibia for Mannfred Goldbeck and Telané Greyling. She invites you to 'Follow her footsteps' on her journey from the Orange River, exploring the Gondwana routes through the intriguing country of Namibia.