It was nearly time to leave this ancient canyonland and head north-east to Klein Aus Vista, the Pro-Namib and the desert coast but first I wanted to drive a route that came highly recommended and to stretch my legs on a few of the trails offered by the lodges.
I had seen signs to the Wildebeest Drive and had heard recommendations but, until now, had never managed to actually drive it. It turned out to be a serendipitous experience. And for those who are not familiar with this delicious word, the sound of 'serendipity' is as refreshing and optimistic as its meaning. It refers to 'good things unexpected' appearing or occurring in your life.
This 4x4 drive which takes you from Canyon Roadhouse to Canyon Lodge (or vice versa) traverses through the plains of the Gondwana Canyon Park. Although I was aware of this, I hadn't given it too much thought and was surprised when I spotted, and continued to spot, the animals of the plains. Burchell's zebra, red hartebeest, oryx and the drive's namesake, blue wildebeest. All were visible on this stretch of land, as were the ostriches, springbok and kudu (at Middelpos waterhole). Holoog and the Klein Karas mountains and a grassy swathe of land bordered by hills and dotted with the occasional quiver tree added to the journey.
The fresh and lovely trip through animal haven (best done in the morning, apparently, when more animals are about), requires several hours - especially if you stop along the route – and binoculars!
When I returned to the lodge, it was time to feel the Earth underfoot again and gain a new perspective and understanding of the land. I coaxed my sedentary body into motion and headed out to the start of the Kudu Trail above Canyon Village. After only a few minutes' walking I was above the lodge and had a bird's eye-view of the surroundings. I was suddenly inordinately happy to be walking above the world. And the more I walked, the better I felt. This Earth energy was invigorating. What in the world has taken me so long?
The trail veered from the lodge into a wilderness area where I felt I was far from everything, as if I had entered a different dimension. Lizards ran over rocks, birds called and a baboon sentry shouted at me from a nearby hill. I shouted back: "Hey, hold on dude, I'm just photographing a quiver tree!" He shouted again and again, and then his warning shout became softer as I turned and followed the path, etched with mountain zebra tracks, that led to 'the hole in the rock'. The path descended and became a sandy track, leading to a quiver tree heavily laden with a sociable weaver nest and chirping weavers, and land that glowed regally in the afternoon sunlight. I made my way back to the Village, filled to the brim.
Usually my cup is half-full rather than half-empty, but today it was simply overflowing.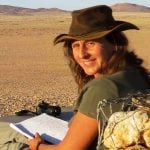 Ron Swilling is a freelance writer, based in Cape Town, writing for Namibian and South African publications. She is a regular contributor to Gondwana's History and Stamps&Stories columns and documented the intriguing information of the Wild Horses in Namibia for Mannfred Goldbeck and Telané Greyling. She invites you to 'Follow her footsteps' on her journey from the Orange River, exploring the Gondwana routes through the intriguing country of Namibia.