Etosha King Nehale is a glorious lodge just outside the northern King Nehale Lya Mpingana Gate of Etosha National Park, one of my favourite wild spaces. Apart from treating you like royalty, the lodge opens opportunities to explore Etosha's Andoni Plains and a private waterhole not open to the ordinary visitor.

You'll find Etosha King Nehale about 50km north of Etosha's Namutoni camp and in spitting distance of Nehale Gate. It gives easy access to the wildlife of Etosha National Park, and also makes an easy stopover on the way north to Oshakati 135km away or Ruacana Falls 190km away.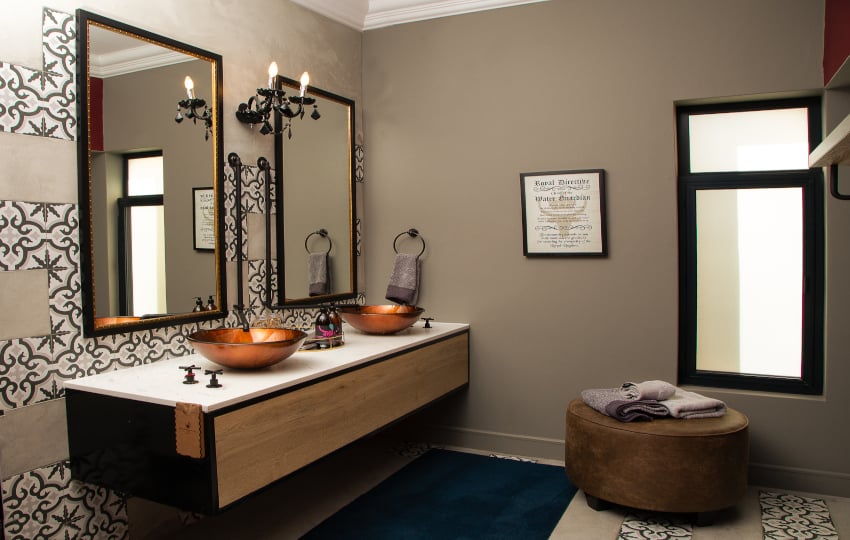 Etosha King Nehale bathroom

The lodge is named after Nehale Mpingana, king of Ondonga from 1884 until he died in 1908. He led the 500 men who destroyed the first German fort at Namutoni in 1904 and is commemorated as one of Namibia's nine national heroes at the Heroes' Acre monument south of Windhoek.
Here in what the Aawambo call 'the great white place', the skies are vast, the landscape dry and dusty in winter so that it appears quite stark in the heat of the day, but softer in the shifting pinks and gingers of sunrise and sunset. Force yourself to get up early and go for a walk along the pathways to enjoy the light display and get some exercise before the heat sets in. The greatest sense here is of endless space and room to breathe, of horizons that stretch forever.

The royal theme of Etosha King Nehale lodge declares itself right from the start, with a large wooden throne at the entrance to the property, a place for your #EtoshaRoyalty selfie (if you're that way inclined). The royal theme continues in the high-backed throne-like chairs in the dining area, the opulent furnishings in your room.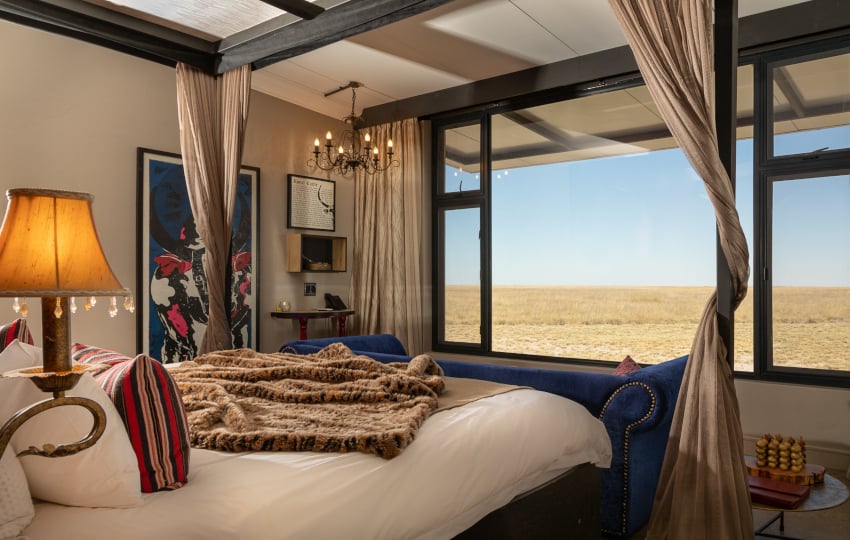 Etosha King Nehale room intertior
To find out more about what to do here, read Roxanne Reid's entire "Etosha King Nehale: feel like royalty at Etosha National Park " blog at the link below.
https://www.roxannereid.co.za/blog/etosha-king-nehale-feel-like-royalty-at-etosha-national-park
Roxanne Reid - Writer, editor, proofreader and African travel blogger
I am a freelance writer, photojournalist, blogger, editor and proofreader. As a travel writer, I have walked through the Kalahari with a San tracker, camped under the stars in the bare stillness of the Richtersveld, and driven along the Roof of Africa in the high mountains of Lesotho. I have breakfasted in the Okavango Delta with a herd of elephants, walked among the wild horses of the Namib Desert and felt the spray of the Victoria Falls on my face.