Damaraland, part of the Kunene region of north-west Namibia, is a land of dry red stones and natural wonders. But the parched landscape can produce unexpected richness, as we discovered just east of Khorixas when we visited Damara Mopane Lodge.
There's a two-fisted magnetism to Damara Mopane Lodge. It's in easy reach of numerous attractions such as Twyfelfontein's large collection of Stone Age rock engravings, the 280 million-year-old trees of the Petrified Forest, and the eroded dolerite known as the Organ Pipes. But despite all these potential activities, there's a calm tranquility to the lodge that I find seductive.

There are 55 rooms but it doesn't seem overwhelming because they're laid out in concentric semi-circles of interlinking pathways, with a large swimming pool at the centre. This, and the fact that each separate cottage has its own small walled garden, makes it seem more like an African village than the big lodge it really is.
Since our first visit seven years ago, the cottages have been repainted from their once terracotta warmness to a cooler grey with accent colours of jazzy purple, lime green and turquoise appearing randomly on doors, gates and garden walls. There's a lightheartedness about it all, a refusal to take itself too seriously.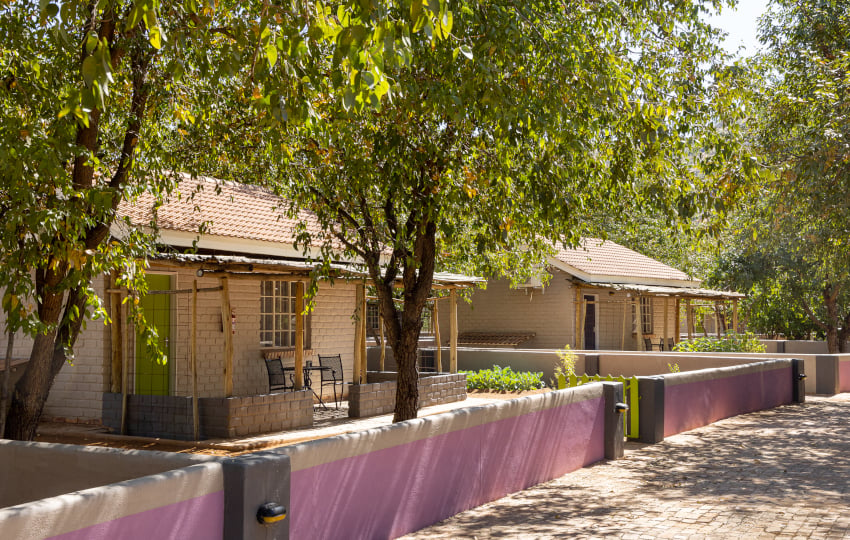 Photo Credits: Keith Reid

Inside, each cottage revels in soothing shades of grey, with crisp white linen and navy throws on the beds. Our room had a huge artwork of a donkey on one wall that seemed to shout local colour, despite being in black and white. The aircon was a welcome friend on a hot day.
To find out more about what to do here, read Roxanne Reid's entire "Damara Mopane Lodge near Khorixas, Namibia " blog please follow the link below:
Damara Mopane Lodge near Khorixas, Namibia - Roxanne Reid - Africa Addict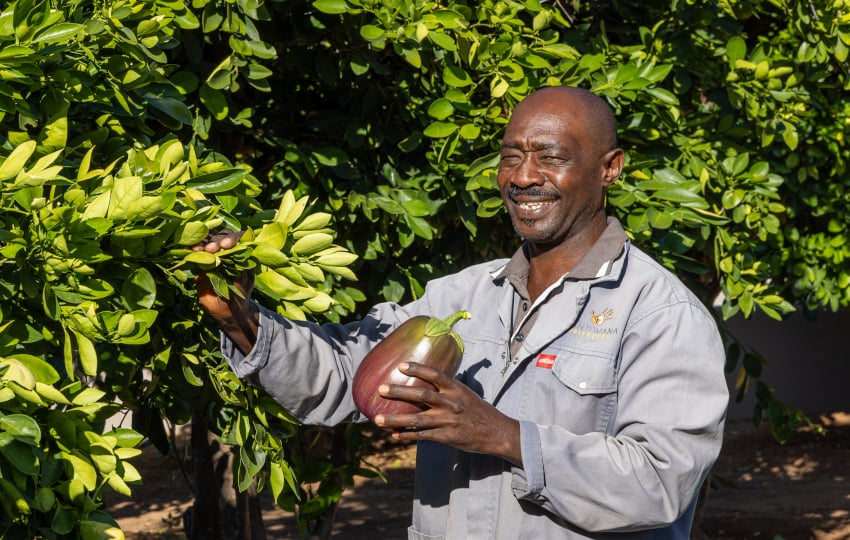 Photo Credits: Keith Reid
Author:
Roxanne Reid - Writer, editor, proofreader and African travel blogger
I am a freelance writer, photojournalist, blogger, editor and proofreader. As a travel writer, I have walked through the Kalahari with a San tracker, camped under the stars in the bare stillness of the Richtersveld, and driven along the Roof of Africa in the high mountains of Lesotho. I have breakfasted in the Okavango Delta with a herd of elephants, walked among the wild horses of the Namib Desert and felt the spray of the Victoria Falls on my face.