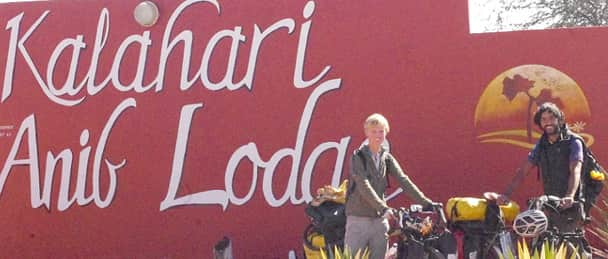 "It has totally taken us by surprise that temperatures can drop so low in Africa", said Dr Hannah Welstead and Dr Reza Noori, two young doctors from Britain, while enjoying the warmth from the fireplace at Kalahari Anib Lodge. "Our coldest night was in the Kalahari where we slept in the tent at minus 12 degrees."Originally they planned to pitch their tent on the farm across the road from the driveway to Kalahari Anib Lodge. Their budget was too tight for a night on a camping site, let alone a lodge. But the gate to the farm was locked. When Lodge Manager Jaco Visser came past and heard their story he invited them to spend the night, including dinner and breakfast, without further ado.
Hannah and Reza have been travelling with bicycles and tents since 22 August 2010. They set off from London, their destination is Cape Town. Both are doctors who have completed their state exam and a two-year medical internship. Before specialising and being tied down in regular employment they took a gap year for an extraordinary cycling tour with an extraordinary mission. "With this tour we are raising funds for OGRA, an organisation in Kenya which trains healthcare staff and builds clinics", Hannah and Reza explained. "We maintain a blog about our journey and collect funds through another website."
The adventurous tour took the couple through France and Italy, by ferry to Egypt, on the Nile into Sudan, up the Blue Nile to Ethiopia and from there to Kenya. Hannah and Reza spent almost three weeks in western Kenya to get to know the OGRA projects. "Poverty is beyond words", they summed up their impressions. "My mother, who came to see us in Kenya, refused to go with us on her second day there because she could not take the squalor and hardship."
From Kenya they continued through Tanzania, Malawi, Zambia and Botswana to Namibia. France and Italy had been a highlight of their tour. They passed through in early autumn and felt as if in paradise when peasants permitted them to help themselves to nature's bounty and pick apples, plums, figs, walnuts and other fruit. Other highlights were the grand landscapes and high peaks of Ethiopia, negotiating 300 km of desert in Kenya, crossing a lake in a fishing boat (full of fish) and the azure waters of sparkling, clear Lake Malawi.
"Not to forget the massive elephants which we saw in Botswana from closest quarters", Hannah and Reza continue their story. "It is quite daunting to encounter these giants when you are on a bicycle and there is no fence or the protective shell of a car."The ride through Rungwa Game Reserve in Tanzania also turned into a life threatening experience. Because of the wildlife they had been urgently advised not to venture there. It was evening when they arrived at a place which on the map looked like a village. Instead it was a deserted ghost settlement and they had to retrace 20 km to the safety of the closest village as night was falling. However, a busy highway in broad daylight proved even worse than the wilds in the dark. The front wheel of Reza's bicycle was squashed by a heavy truck which overtook the two cyclists – Reza escaped unharmed as if by a miracle. The truck driver did not even bother to stop.
From Kalahari Anib Lodge the Africa cyclists continued to Keetmanshoop and on to the Fish River Canyon. There they were hosted by Cañon Roadhouse and Cañon Lodge before they set off on the last leg of their journey: through the northwest of South Africa to the West Coast and finally Cape Town. "Our flight back to London is booked for 23 August, exactly one year and one day after we started," they said as they mounted their bikes. "It will be strange to return to everyday city life."