If you think Cardboard Box, do you think travel? Do you think Namibia, local people, travel advice, and breathtaking itineraries?
Before you wonder what a cardboard box has to do with tourism, google www.namibian.org and get lost in browsing the wide range of destinations one can visit when traveling to and in Namibia. To explain in short: The Cardboard Box Travel Shop is a definitive and objective guide to travelling across Namibia and Botswana.
The website offers detailed insight into everything one needs to know about Namibia, the people and communities, languages, and travel advice to car rental, updated Namibian news, and ultimately the perfect range of self-drive and guided tours of all kinds, as well as all the lodges in the country.
As a user friendly and easy to navigate approach, this customized approach to planning a holiday is ideal for every single budget, taste, character, and travel couch potato. The Namibia section of the website gives an overview into the archaeology of the country, the weather patterns, geography, and well-known people, who shaped Namibia into what it is today. The modern travel advice aspect of the website gives friendly, detailed advice on topics such as solo travelling as a female, religion, insurance, internet service, homosexuality, and crime.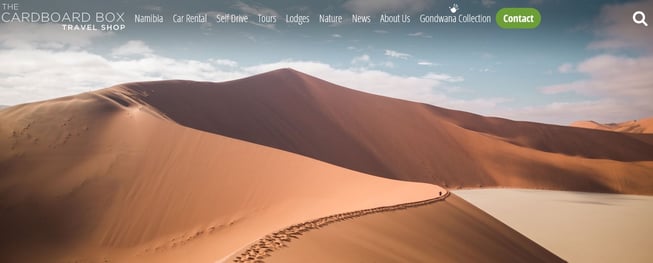 Namibia2Go, Gondwana Collections' car hire range, is displayed on the website as well, showcasing the full range of vehicles, providing an easy, hassle free booking process. With the suitable car, only one thing needs to be sorted before leaving on a great Namibian adventure with friends and loved ones: The perfect travel itinerary. This is the part that calls for a headache, stress, and complicated calculations. This is also where The Cardboard Box Travel Shop comes in. With a full range of self-drive tour options available in Namibia, the experts behind the scenes assist you with all your needs and will put together a customized trip according to your individual needs, budget, time period, and preferences so that you don't really need to do much more, except for picking your favorites accommodations under the lodge section.
Consider the rest as done. Self-drive tours are for the ones, who prefer to travel alone, away from crowded tour buses and groups. These tours are categorized into budget, mid-range, up-market, camping, and honeymoon itineraries. For guests that means no need to google around for ages to find a suitable tour through Namibia that is affordable and practical. For those, who prefer to travel with a guide, can pick their favorite seven to eighteen-day accommodated tour through Namibia with expert guidance all the way. There are activity recommendations, including fishing, hiking, ballooning, and birding to round of the adventure. There even is a nature section on the website that provides nature lovers and curious travelers with all the information needed regarding plants and animals.
A brand new addition to the website is the news section. Here, Namibian news articles are published regularly, to give tourists and locals alike an overview of what is happening in the country, in terms of tourism, economics, sport, history, nature and environment, and culture and lifestyle. I hope that so far I could inspire, if not convince you, to have a look at this all-including website. This is Namibia in detail. This is Gondwana Collection Namibia assisting you with all your travel requirements and questions and providing you with the time of your life. And as you have read above, you don't have to do much, only decide where you want to go.
Camping, luxury lodging, day trips to Sossusvlei, or a boat tour far up on the northern rivers, The Cardboard Box Travel Shop offers it all. And although travelling is difficult and uncertain at this time, having a look at what this country can offer you with just one click is so reassuring and refreshing, so Fernweh triggering and wanderlust inspiring, that you will never use another platform to book your trips in Namibia again.
If you have ever made use of The Cardboard Box Travel Shop to plan your holiday, let us know in the comments where you went and what your experience with us was.
Author – Hi! I am Elke, a born and raised German-Namibian. I love to travel around and explore different cultures and places, but my home country always magically draws me back home again. Oh, and if it involves food, count me in on the adventure.